Brian Blessed, it turns out, is a hard man to interrupt. Not until nearly two hours after my arrival at the Surrey home he shares with his actor wife Hildegard Neil does he gets around to answering questions about The Hollow, the Agatha Christie play he's directed at the Mill at Sonning, which opened last week.
He's not being deliberately evasive – on several occasions, in fact, Blessed himself remarks that we really must discuss the production – it's just that there are so many stage career highlights he wants to cover first. The 79-year-old actor has a lot of anecdotes to share.
He starts at the beginning: "I was brought up in the amateur theatre, the son of a coal miner." And we're off.
"The amateur theatre was very powerful in South Yorkshire. In the villages, everywhere you went, the coal miners and the bricklayers at the vast industrial sites put on opera, musicals, plays and Shakespeare by the dozen."
The young Blessed took part in theatre productions at school and attended drama workshops at the weekends whenever he could, along with Patrick Stewart, his "little companion" from the next village.
"He was the son of a milkman and me the son of a coal hewer," recalls Blessed. Initially it was "unthinkable that we could progress as professionals". But regular contact with representatives of institutions such as the Bradford Civic Theatre and Bristol Old Vic Theatre School gradually made the idea seem like a goal worth pursuing. Then, at the age of 16, Blessed auditioned for the Mexborough Theatre Guild.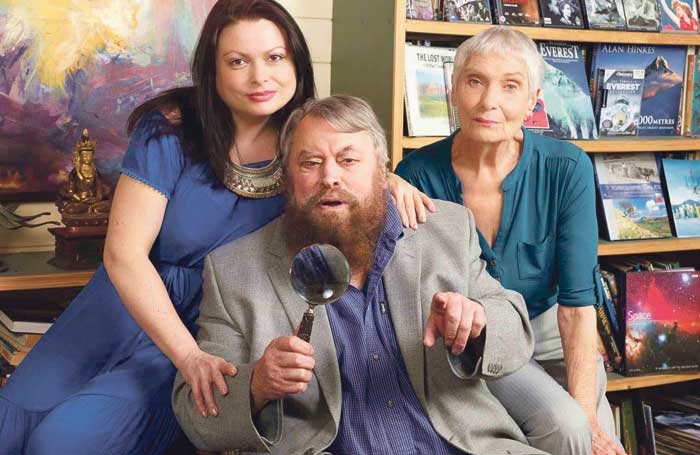 "The man in charge was called Harry Dobson, who was the most influential man I ever met," says the actor, letting loose a flurry of nostalgia: stories he has clearly told dozens of times before, complete with rich impressions of the major players, plenty of pregnant pauses, and bits and bobs of various plays and films where necessary to illustrate his point.
"He gave me a part in [Sidney Howard play] The Silver Cord and I was shaking with excitement. He said, 'You've got a lot to learn, Brian lad, but I'll teach you.' "
Taming his thick Yorkshire accent, while not losing his "Yorkshire expression" – was an important part of the training. "People would say to my mother – and they had thick accents – 'Mrs Blessed, we can't understand a word your Brian says.' " The time taken over this process clearly paid off – today Blessed is the proud owner of arguably the most recognisable voice in the business.
The next stage of the plan was BOVTS, and Blessed couldn't wait to put it into action. So impatient was he to begin that, despite knowing full well that he would have to undertake national service before being eligible for drama school, he took himself down to the Theatre Royal to audition at the age of 16. The game was up almost immediately, he remembers.
"Horror of horrors, there was [legendary Bristol Old Vic teacher] Rudi Shelly, whom I'd been on a drama course with," he says. They liked his audition pieces but didn't believe him for a moment when he told them he was 20. Fortunately, they were just as impressed when he auditioned again a few years later – following a suitably dramatic period with the parachute regiment of the Royal Air Force – and Blessed was accepted on to the course in 1956.
Continues…
---
Q&A: Brian Blessed
What was your first professional theatre job? Assistant stage manager and small parts, Nottingham Playhouse, 1958-59.
What's your next job? Directing The Hollow at the Mill at Sonning.
What do you wish someone had told you when you were starting out? Be careful of your determination, it can blunt you as an actor.
Who or what was your biggest influence? Harry Dobson at The Mexborough Theatre Guild.
What's your best advice for auditions? Find original pieces that no one else has used.
If you hadn't been an actor, what would you have been? Astronaut!
Do you have any theatrical superstitions or rituals? No, none.
---
Having had to leave school early to work to support his family when his father was injured in a mining accident, Blessed was particularly grateful for the academic opportunities available thanks to the BOV's ties to the drama department of Bristol University. "I could educate myself more and more. I was surrounded by teachers who could help me," he says.
Being able to watch the BOV company at work – including Peter O'Toole, who had begun his career there in 1955 – was also deeply affecting. (I thought that Blessed had been voluble about Dobson and the Yorkshire amdram scene, but that was clearly just a warm-up: Blessed on O'Toole is a veritable avalanche of anecdotes, from naked midnight running races to being cast opposite him in the BOV pantomime in 1957.)
His first job out of drama school was assistant stage manager, taking small acting parts, at Nottingham Playhouse rep company, starting with a show called Boys, It's All Hell. "You helped build the sets and God knows what," Blessed says. "There were about five ASMs but they were all small, they had no muscle. I had plenty of muscle. I was brought up with football and boxing and all that, so I was very tough."
In 1960 he went to Birmingham Rep – the "creme de la creme" of the rep system, according to Blessed – to play 'character leading man' roles. "Actors would be rushing around the West End from drama school, hundreds of them, trying to get work. Everyone dreamed of Birmingham Rep and Bristol. The competition was so keen for the top reps."
It all took off after that, with big TV roles coming thick and fast, including PC "Fancy" Smith in Z-Cars, Porthos in The Three Musketeers and Caesar Augustus in I, Claudius. But Blessed had enjoyed his rep days so much – and learned such a lot on the job – that when Trevor Nunn, artistic director of the Royal Shakespeare Company at the time, invited him up to Stratford-upon-Avon after directing him in the musical Cats, he jumped at the chance.
But it wasn't what he had hoped for. "I got there and I felt [Nunn] wanted me but the directors there didn't," he says, clearly still smarting from this decades'-old injury. "I wanted to go there and learn and be part of a company. I remember we did Hamlet and the director was a man called Ron Daniels. I disagreed with every bloody thing he said." Blessed ended up leaving the season early to shoot the Disney TV series Return to Treasure Island.
The National Theatre reminds me of Colditz: the corridors are all dark tunnels
He didn't much like working at the National Theatre either. "It reminds me of Colditz: the corridors are all dark tunnels."
The West End is another no-no. "I don't want to work there at all. For me, it's not theatre: there's a magic missing," he says. "I'm not bitter about it, I just can't stand it, I never could. Whereas amateur theatre made me so happy and drama school made me happy and Nottingham and Birmingham Rep made me happy, the West End doesn't."
The Hollow, Blessed's stage-directing debut at the age of 79, allows him to revisit at least two of those key phases in his career. The petite Mill at Sonning, just across the county line in Berkshire, reminds him of the old Nottingham Playhouse. "It's a kind of oasis, a Shangri-La, a miracle," he says. "I saw two or three productions there and thought, 'This is lovely.' "
Agatha Christie's country-house murder mystery, meanwhile, stirs even older associations: Blessed played Edward Angkatell ("miscast!") at the Mexborough Theatre Guild when he was 16.
"It was my first breakthrough to being an adult person," he says, digging through piles of books on the desk in his garden office to show me his original script from that production.
He also has fond memories of doing Christie's Spider's Web, directed by Val May, at Nottingham in 1958. He'll be following May's advice to "treat mysteries with tremendous seriousness" and will be "old-fashioned" in terms of his directing style.
"I shall very simply go through it. I shall block like we did at Nottingham Rep," he says.
And that, somewhat frustratingly, is all we have time for. Blessed has been speaking more or less non-stop for more than two hours and doesn't show signs of running out of material any time soon, but I have a train to catch.
"Do come see The Hollow," he says, walking me out. He's so looking forward to starting rehearsals. "It's really back to the future for me."
---
CV: Brian Blessed
Born: Mexborough, Yorkshire, 1936
Training: Bristol Old Vic Theatre School
Landmark productions: Theatre: Cats (1981), Chitty Chitty Bang Bang (original London cast, 2002). TV: Z-Cars (1962-1965), I, Claudius (1976). Film: Flash Gordon (1980), Henry V (1989), Star Wars: Episode I – The Phantom Menace (1999)
Awards: Behind the Voice Actors' television voice acting award for best vocal ensemble in a new television series for Henry Hugglemonster (2014)
Agent: Stephen Gittins, Associated International Management
---
The Hollow runs at the Mill at Sonning until September 3