Ben Forster has been on a bit of a roll lately. In September, he reprised the role of Brad Majors in The Rocky Horror Show for its brief West End return at the Playhouse Theatre that was also live-screened into cinemas around the country, working alongside the show's creator, Richard O'Brien, and Stephen Fry.
He is currently stepping back into another part – the title role of Elf that he first played in Plymouth last Christmas and is now appearing in at the Dominion Theatre, London. And last but not least, in February, he takes over an iconic title role when he joins the London cast of The Phantom of the Opera.
He's building on an association with Andrew Lloyd Webber that began for him professionally when he won the title role in Jesus Christ Superstar, via the reality ITV casting show, Superstar.
But personally, he tells me when we meet in his large star dressing room backstage at the Dominion, the connection goes back even further.
Growing up in a working-class community in Sunderland, he says, "My auntie gave me a cassette tape of Andrew Lloyd Webber music, and I remember I would listen to it on my Walkman in bed. I love Starlight Express and The Phantom of the Opera."
His own professional life story sounds like a mixture of A Chorus Line and Billy Elliot.
"My sister, who is six years older, was taken to ballet on Saturdays, and I'd watch her do pantomimes at Sunderland Empire as she grew up. We joined the local amateur dramatic society as a family to support her, but we all got roped in. I remember that, when I was five-and-a-half-years-old, I did my first show at a coalminer workmen's club hall, and I had a childhood lisp, so I was singing 'thzipp a dee-doo-dah, thzipp a dee-a'."
But it was someone he credits as "an amazing music teacher" at his comprehensive school in Sunderland, who, he says, "really changed my life".
Her name was Mrs Bennett and he is still in touch with her today. "She gave me an hour or two after school every day, training and encouraging me. She told me about the National Youth Music Theatre and got me to apply. Everyone in the workmen's club put together £300 for me to go, and I joined them to do a show called Warchild. In Sunderland in the 1980s and early 1990s, there was this air of desperation after the miners' strike, and men were men and women were women and no one could dream. But my mum has always been very positive, and said you can do anything you want."
Forster in Elf the Musical. Photos: Tristram Kenton
He recalls that when his family first saw the film version of Billy Elliot, even his mother, he says, noticed the similarities with her son's own story. "She said: 'Have you been talking to someone on a train and they've overheard your story and made a movie?' The only difference is that my mam is still alive – I've even got a bit of a crazy gran."
At the NYMT, he met people with a similar passion to his: "That was the first time I met another 13-year-old boy who was the same as me. And they were all talking about where they wanted to go next: some mentioned Laine [Theatre Arts], others Italia Conti [Academy of Theatre Arts]. I'd never even heard of them. But they told me to look in The Stage, and I remember getting the paper – we didn't have the internet everywhere then – and I saw an ad for Italia Conti, and I decided that's where I needed to go – it looked the most fun."
So he duly auditioned, and says now: "The audition scene from Billy Elliot is virtually word for word what happened to me when I had mine at Italia Conti."
He was 17 when he started there, but he left after a year and a half when, halfway through his second year, he got his first West End job in a show called La Cava that opened at the Victoria Palace and subsequently transferred to the Piccadilly Theatre. "It's when you're working that you learn the most – working with talented people, getting inspired by them and learning the business."
His next job taught him about being in a show that began with a great buzz around it, but that he and his fellow cast members soon realised during rehearsals was doomed. It was a Beatles revue called All You Need Is Love, and he appeared in it with Hannah Jane Fox and Adrian Hansel in 2001.
"I was only 20 at the time, and I remember Hannah saying to Adrian when we were on a rehearsal break: 'Is this show really shit?' and Adrian replying: 'I think it is!' We hoped it wouldn't be a flop, but we knew it was."
Meanwhile, he was trying to break into the music world as a singer-songwriter, and took some time out from the theatre to do so: "I was just doing commercials to keep me in money – I was quite good at commercial castings, because I have a bendy face and I look like the boy next door, so I did alright with commercials."
But the music career never really took off. "I was being managed by the same person as Paloma Faith and Amy Winehouse, but it didn't happen. Looking back, I know I wasn't that good, though I thought I was brilliant at the time," he says honestly. "I'm an okay songwriter, but I was always trying to fulfil a brief. I would go into the studio and be told to do things like John Legend or James Morrison, but you can't be someone else. You have to be yourself – and that's what I should have done, and might do in the future if I do it again: write music I love. You can't be dishonest about it; that's probably why it didn't work."
Instead, he joined the original London cast of Thriller Live in 2009 as one of its original lead singers, a show he admires to this day for the fact that it keeps reinventing itself: "They keep putting new numbers in, so you can see it 10 times and see 10 different shows." He stayed for a few years, including a world tour, of which he says: "I've been to so many places. I've been blessed."
He found his own career, however, was stalling: "I don't know what it was, but it was hard. I don't think it was my agent – I had a good one – but I wasn't being seen for things that I thought I would be okay to be seen for, like Hairspray when it came to London or to work at Chichester [Festival Theatre], which I've still never been seen for. Casting directors are just human beings, and they have their favourites – people they know or have seen in loads of different things. And I'd had that massive break of three or four years when I was doing music."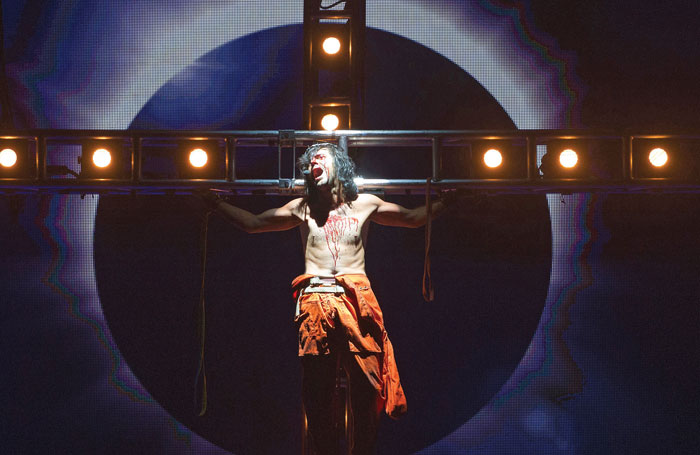 But then came Jesus Christ Superstar, and his fortunes turned around. "People think I fabricate this story, but it's really true. In January 2012, I was asked to go back into Thriller Live for a month. I'd started to develop property interests in 2009 and 2010, and it was going okay and I was doing alright. And I thought: 'I don't think I'm going to get what I want', so in my head I started to say: 'I think I'm done [with performing]'. My family had seen me in a lead in the West End and I'd toured around the world and done stadiums. It was a great experience and I'd really loved it, but it was time to give it up. Then my agent rang and told me about the Superstar programme. I remember thinking back in the day when they did the Joseph and Maria casting shows that I'd never do one of them, unless it was a Jesus Christ Superstar one. And because I'd said that, when one came up, I just knew I had to do it. It's such an epic role that it really does get to showcase the winner, and give them some sort of credibility."
At that point, there was also a growing recognition among professional working actors that there was no shame in participating in these programmes, and they afforded their participants real exposure; his fellow contestants in the Superstar competition included Alex Gaumond, Oliver Tompsett and his Thriller Live co-star Roger Wright.
When Forster turned up for the show's bootcamp in Majorca and saw Tompsett and Gaumond there, he says: "I thought I should just go home. I knew Ollie a bit and he has those amazing locks of hair and a Jesus face; and Alex was already a West End star [he'd had a featured role in Legally Blonde]. But it was the way things were going – if you couldn't beat them, you had to join them, and it could open doors."
But Forster very nearly pulled out during the competition. "I really hurt my back during a dance call, and thought I'd have to go home as I couldn't move. But Ollie told me I couldn't – I was down to the last 30 so I had to stay – and he came to my room and spent two hours rubbing my back, doing the best impression of a physio you could ever see."
Even now, he is touched by the generosity of the gesture: "He could have wiped out a bit of the competition, but he didn't."
The TV contest itself, he recalls now, was "terrifying", not least because it went out on live television and amounted to a public popularity contest, voted for by the great British public. "I wouldn't be able to do it again, knowing what I know now. The only way you can get through it is when you don't know what is around the next corner, like the stuff they threw at us when we came down to the last five and they suddenly changed my song the night before the show and I had to go home and learn it and be ready for the camera rehearsal the next morning."
He won it, of course, and it did indeed open doors to some big opportunities. He mentions going on the arena tour, which began at London's biggest arena, the O2, and tells me that Ricky Wilson from the Kaiser Chiefs had recently told him that he'd appeared there earlier this year and revealed: "Do you know that outside the dressing room there's a massive picture of you?"
He was humbled by appearing there: "Anyone who has a desire or love of entertainment wants to appear there. It will, I'm sure, be the best moment of my life." Also life-changing in other ways was appearing with Melanie Chisholm [former Spice Girl Mel C], who had been a judge on the programme and then joined the cast as Mary Magdalene: "We clicked immediately – she was the judge who was gunning for me, and then the most lovely co-star, too. She's changed my life in a number of ways, even my personal life in ways that no one would know."
Continues…
---
Ben Forster's top tips for an aspiring performer
Find a really good inspiration or inspirations in other people – I'd sing along to so many different kinds of people: Whitney Houston, Celine Dion, Elton John, George Michael, and I had a tape of Mark Rattray singing show tunes. Be inspired by lots of sounds, and develop your own out of it.

Practise loads – the vocal cord is just a muscle, so it's just about strength. There's nothing technical or God-given about it.

Be nice – there are people who've been in exactly the same situation as me who are not here now, because they're just not nice. I work a lot for the same people I've worked for before, and it's because everyone knows I'll be a nice person and get on with people.
---
In 2013, he joined Chisholm and Tim Minchin, the London Judas, on an Australian arena tour of the show. The next year, it was due to embark on a US tour in the summer. "We were in New Orleans, which was the first date, and I was in a rehearsal with Laurence Connor [who directed it] and Brandon Boyd from Incubus, who was going to be Judas. It was five days before the tour was due to start, when Steve Nixon, who was the show's general manager, came in. I'd never seen a look on his face like it – and though no one else clocked on, I just knew what it was about."
The news was bad; the tour was suddenly entirely cancelled. "It was the most surreal day of my life. John Lydon, who used to be Johnny Rotten, was supposed to be King Herod, and he'd been a bit of a nightmare, outrageous and crazy, and I hadn't been sure I'd be able to share a tour bus with him. But we had clicked a few days before and were getting on, and he was devastated. I've never seen a grown man that upset. He told me that it had all meant so much to him, and he'd really loved being there with me and learnt so much from rehearsing with me."
Forster may also have been left reeling, but he comes from the school of hard knocks and wasn't about to let this defeat him. "I'd been brought up to be positive, and I went out and walked around New Orleans. I honestly don't think I could have found out that news anywhere better, because on every corner there's someone incredibly talented who is playing music. I walked around and saw a Chinese woman playing a violin, and another woman joined her with a guitar and they drew such a crowd. It was so beautiful, I stood there for an hour crying and thought: 'That's what it is all about. I don't need to do Madison Square Gardens or need the paycheck I was about to get. I could just move to New Orleans and sing on a street corner.' When I was trying to get my recording career going, I used to perform in pubs up and down Marylebone High Street, in Fitzrovia and Trafalgar Square. That's how I made my living. So I could do it again. It was what I was used to. And I thought, I'd had these amazing couple of years, and if this was the end, if nothing more was going to happen to me, I'd just move to New Orleans and be a singer."
Continues…
---
Q&A: Ben Forster
What was your first job? When I first moved to London, I spent two months at the Lyceum Theatre as front-of-house – I was at the opening night of The Lion King, selling cuddly toys. My West End debut was in La Cava (Victoria Palace and Piccadilly Theatre).
What is your next job? The title role in The Phantom of the Opera at Her Majesty's Theatre, London, from February 1.
What do you wish someone had told you when you were starting out? To not be so self-conscious and just to be myself. I wasn't successful until I lost my self-consciousness.
Who or what was your biggest influence? Andrew Lloyd Webber, and not just for me: look at how instrumental he has been and how much he has changed the business.
What's your best advice for auditions? Just be yourself – don't act really confident, don't act demure, or posh, or funny. I've helped out a friend who is a casting director and sat in on auditions. Those who were themselves were always the best.
If you hadn't been an actor, what would you have been? When I was a teenager, marine biology and wildlife photography were massive passions, so I might have done that; I was also obsessed with property, even as a kid, and it is still a hobby now.
Do you have any theatrical superstitions? A gazillion – everything has a ritual attached to it.
---
In fact, when he got home to England, he got a different call: as so often when the chips are down for people, it came from Bill Kenwright. He wanted him for the tour of Jesus Christ Superstar he was doing in the UK. "I didn't want to do it really, but I didn't want to say that – I respect him too much, so I suggested we had a cup of tea, and I told him then that I didn't want to revisit it yet. And then he said: 'How about doing Magaldi in Evita – I can guest-star you in that when I bring it to the Dominion Theatre?'"
It would prove to be extremely fortuitous. "The whole TV contest was based around me being a rock singer, but I've got a more versatile voice than that. And when Andrew Lloyd Webber saw me doing Evita, it opened his eyes to something different in me – and he said: 'You need to be Phantom'."
And that dream is now about to become a reality, when he steps into the famous shoes (and mask) of the Phantom from February 1. "It's a big step for me – a big boy's part. And that's a gift."
The contrast with the current role that has brought him back to the Dominion for a Christmas run in Elf (running until January 2) couldn't be greater, which is a little boy's part in every sense. "But then Michael Crawford went from being Frank Spencer [in BBC's Some Mothers Do 'Ave 'Em] to the Phantom, so I'm not breaking any big ground."
He originated the title role in the British premiere of Elf at Plymouth's Theatre Royal last Christmas, and says it was "a lovely, lovely experience". For the first time in his career, he was in a place where the show was being built in-house, as they were rehearsing it at the Theatre Royal. "We'd be creating the show in one room, and then the big double doors would open and we'd see the set being built, and walk down the corridor and see the costumes being made. Usually, you go into tech and the costumes are all there. Seeing them being hand-sewn was magical."
The production ignited some controversy when it was announced that premium tickets for the London run were being sold at up to £240 each. When I say that one of my objections to it is that the actors won't see any of that sort of money themselves, he pragmatically (and diplomatically) replies: "That's no one's argument but Equity's. And all actors and people taking that argument need to make sure that they are paying their Equity subs, so that it can be a powerful and popular union. I kept paying my subs even when I was taking a break from acting. Nothing will change unless we have power like the American Actors' Equity has."
Forster has earned his dues. And suggests, tactfully, that actors pay them, too.
---
CV: Ben Forster
Born: 1981, SunderlandTraining: Italia Conti
Landmark productions: Thriller Live (2009), Jesus Christ Superstar (2012-13), Evita (2014), The Rocky Horror Show (2013 and 2015), Elf (2015)
Awards: Winner of ITV's Superstar television reality show, 2012
Agent: Hilary Shaw at Shaw Thing Management, and William Morris in New York
---
Elf runs at the Dominion Theatre, London, until January 2
Ben Forster will join The Phantom of the Opera in the title role at Her Majesty's Theatre, London, from February 1