In a professional career spanning almost four decades, Andy Hinds has spent most of it firmly entrenched behind the scenes. But in 2012 he stepped tentatively into the spotlight, appearing in the first of what he has since developed into a trilogy of intense, interlocking family dramas.
On the opening night of Morning, Afternoon and Evening, premiered in the intimate space of the Viking Theatre on the north shore of Dublin Bay, Hinds is relishing the experience of being in control of that most challenging and exposing of theatrical genres – the one-man show. The plays are set in his native Derry and viewed through the perspective of three lost souls – two estranged brothers and a third tangential character, who turns out to be a beacon of hope and reconciliation. Each piece is tightly focused and emotional, drawn from Hinds' experiences of growing up in a divided city, where discrimination, inequality and sectarian violence were an integral part of everyday life. But far from being 'Troubles plays', they are minutely observed, universal human stories.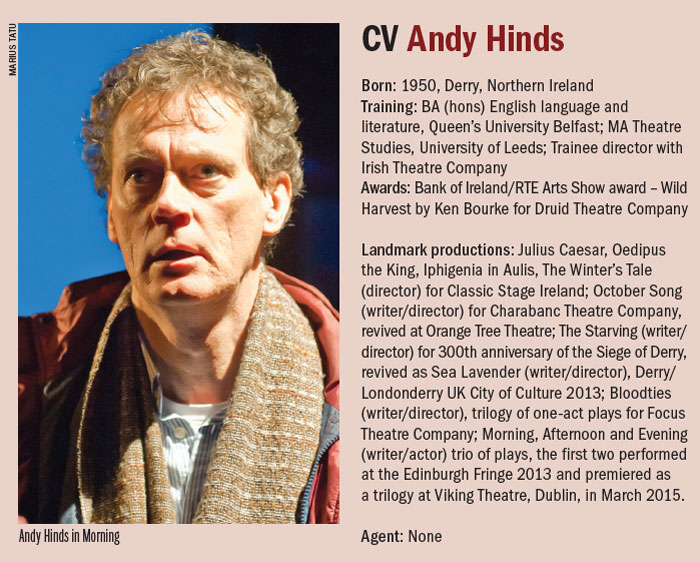 At the end of 90 minutes alone on an empty stage, one would imagine that he would feel utterly drained and wrung out but, he says, the sensation is quite the opposite. "When I come off, I feel light, purged. The three plays are so raw that you might imagine I'd be completely exhausted, but letting go of all that emotion has a purgative effect. It hits me afterwards, though."
Hinds is currently juggling two significant projects – the Irish opening and planned US tour of the trilogy and the publication of a groundbreaking new book entitled Acting Shakespeare's Language. It has been highly acclaimed across the industry and described by Ralph Fiennes as "a rich and detailed path towards a precise contact with the challenge of speaking and inhabiting Shakespeare's language".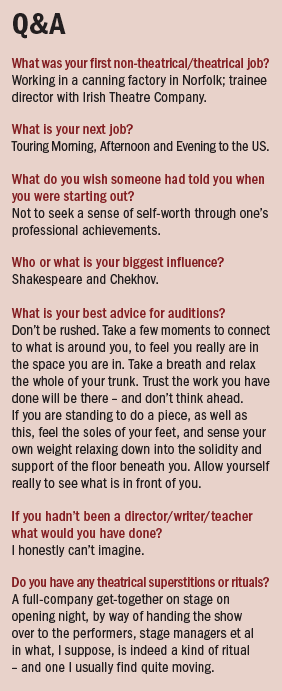 "Many books have been written about interpreting Shakespeare's speeches, but there has not been one that is specifically about the language, about acting the text," says Hinds. "The idea came from one of my famous little epiphanies. I hated Shakespeare at school, I thought his plays were just plain boring. But a few years ago, when I was halfway through rehearsals for All's Well That End's Well at RADA, I suddenly saw clearly the immense genius and energy in the text of what is not a particularly well-known play. It was a revelatory moment that was simply awe-inspiring.
"In writing the book, I had a terrifying sense of sticking my head above the parapet. It was incredibly hard to structure. In fact, shortly before delivery, I completely reshaped it. It took me a while to find my own voice, but it gives me a kick when people say they find it friendly, accessible and funny because that's exactly what it's meant it to be."
Equally daunting was the decision to step out from behind the scenes to front of stage. "Some people have thought I was insane, putting myself out there after so many years of directing and teaching and writing. But I just decided that I wanted to do some acting. A few years ago, I was invited by Focus Theatre Company in Dublin to write three one-act plays called Bloodties. One of them was Morning. I thought, this is about a middle-aged man from Northern Ireland. I could do that. Or could I? Could I actually stand up for the first time as a professional actor and try to hold an evening on my own?
"It was premiered in 2012 at Dublin's New Theatre in a Focus Theatre/New Theatre production and went well. Then I added Afternoon, to make a double bill. Morning and Afternoon opened at the Project Arts Centre in Dublin and then went to the Pleasance Theatre during the 2013 Edinburgh Fringe, where the response was amazing. Now, with the recent addition of Evening, it's become a trilogy, which I'm hoping to take around Ireland and then on tour to the States."
Hinds has been a theatre practitioner throughout his entire working life, kicking off at Queen's University Belfast, where he studied English. There is no tradition of the arts in his family, although his younger brother Sean is a well-regarded screenwriter and film director. Life for the Catholic community in Derry in the 1950s and 1960s was not easy, and he has vivid memories of his father's barber shop being bombed three times and of his uncles having to leave Northern Ireland as work opportunities were denied them – an experience which makes its way into the trilogy.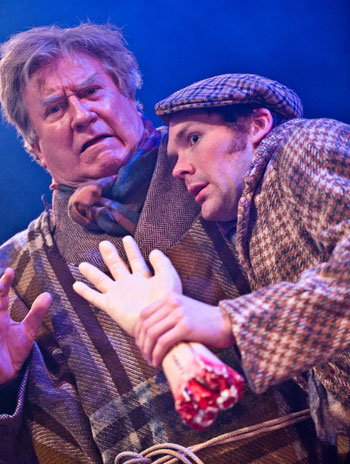 He says that such events cannot fail to touch an artistic consciousness: "Bloody Sunday is a good example. It's not something you think about every day, but your community's wounds are your wounds. At the time, there was no process for dealing with these things, until you start to write. I wrote and directed Siegeplay, a massive open-air theatre piece, which was performed in 1989 in Derry's Guildhall Square to commemorate the tercentenary of the Siege of Derry. We had a large cast of community actors, singers and musicians, plus a small number of professional actors. There is a scene in it where a little boy is shot in crossfire. When I was writing it, it suddenly hit me as a metaphor for Bloody Sunday and, in a long delayed reaction, the tears flowed."
While Hinds lived for many years in London and has been based in Dublin for the past decade, he remains personally and artistically attached to home. His first play October Song was written in 1992 for Charabanc Theatre Company and was the inaugural production at the Playhouse, a multimedia arts centre in a magnificent, once-derelict convent building on the city's ancient walls. His play The Starving, first performed in 1995 by Conleth Hill, is set in Derry the 1690s and is a deeply personal exploration of the pursuit of forbidden love. In 2013, he reworked the play, retitled it Sea Lavender, and directed it for Derry/Londonderry UK City of Culture.
He began his career as assistant director to the legendary Joe Dowling, founder of the government-funded touring company Irish Theatre Company. Since then, he has directed in just about every theatre in Ireland, as well as at Scottish Opera, Glyndebourne, the King's Head, Soho Theatre, the Orange Tree in Richmond and Bristol Old Vic, where he was an associate director. He has had a long ongoing association with RADA, where he taught and directed classic productions, as well as setting up its international acting Shakespeare course for professional actors, directors and academics from all over the world.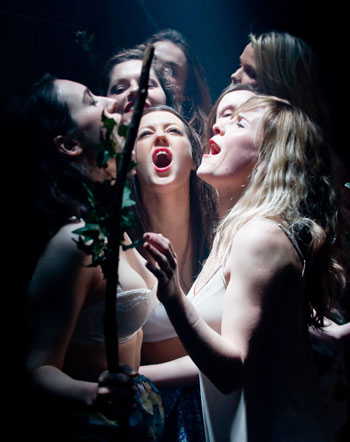 On the other side of the spectrum, he fondly recalls his early work with Playzone in Belfast, where, alongside actors Marie Jones and Julia Dearden, he devised pieces grounded in social realism and political issues. During his years in London, he evoked those roots when he wrote and directed the Lambeth community play, a year-long project, culminating in a large-scale production which ran for a week in Brixton leisure centre.
Meanwhile, back in Ireland, he set up the Open House Theatre Project to train young Irish directors. Its alumni include Conall Morrison, John Breen and Joe Devlin. Then came the founding of the company with which he is most strongly associated. "I was doing a production for Druid in Galway in 2005, when I had another of those 'moments'," he recalls. "I decided I wanted to found a classical theatre company. And I did."
Classic Stage Ireland ran for 10 years, without a penny of public funding but with substantial financial support from a generous celebrity benefactor. "I had become friendly with [late Bee Gees singer] Robin Gibb's wife Dwina Murphy-Gibb, who comes from Fermanagh. I was asked to look at a play script she had written. I arrived at the Conrad Hotel in Dublin expecting to meet this rock chick and encountered a warm, sweet woman, who volunteered to support the company and has continued to do so down the years."
As its name suggests, the company's remit has stretched far and wide across the classics, from Shakespeare to Marlowe to Chekhov and the Greek tragedies. Working with Martine Cuypers, an academic at Trinity College Dublin, Hinds has reshaped Euripdes' Iphigenia in Aulis and Aeschylus' Oresteia trilogy into verse translations, a process he finds stimulating and challenging. He has channelled all of this experience into writing his new book.
"You think you know a lot until you begin," he says. "It was a very steep learning curve and I was acutely aware of people like Peter Hall, John Barton and Cecily Berry looking over my shoulder. But it has been very well received right across the profession. It was an extraordinarily rewarding experience, which has only enhanced my admiration and awe for the plays and their writer."