Good theatre producers need to know how to juggle plenty of balls simultaneously. They also need to know the nuts and bolts of putting on a show. And few demonstrate this better than Michael Harrison, who at just 36 is king of the commercial pantomime in his role as managing director of the Qdos Entertainment Group as well as producer of West End shows including The Bodyguard.
He launched the latter show four years ago at the Adelphi Theatre with producing partner David Ian. It is currently at the Dominion and is now going global, with productions in Germany and Holland, another about to launch a US tour this month, and Korea and Australia next on the cards.
Harrison is a prolific manager of touring shows, too. Next year, he will take the helm for the tours of West End hits Funny Girl and Beautiful. He's also got his own touring version of Annie in South Africa and is working with Mel Brooks on a revised version of Young Frankenstein that will launch in Newcastle next summer ahead of a projected transfer to the West End.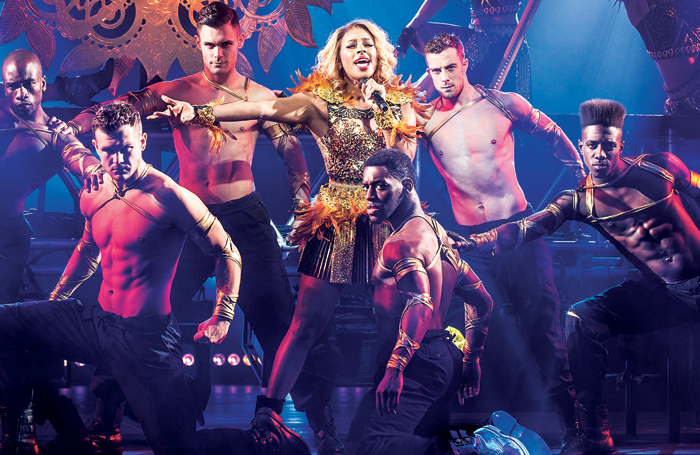 But first, this Christmas he is presiding over a portfolio of 23 pantos. He is also directing three of these, including the new Palladium spectacle Cinderella, which returns panto to that fabled central London address for the first time in nearly 30 years. The other two are the showcase Birmingham Hippodrome entry that he's taking charge of for the seventh time, and one in his home town of Newcastle that he's directed for the last 12 years.
Speaking in his Covent Garden offices, he tells me: "First I get Newcastle up, then I come to London and I have three days with the Palladium company. Then the following Monday the Birmingham company arrives, and I have one room with the Palladium company in it and another with the Birmingham one, and I flit between the two. There are so many things to do – music, choreography and comic scenes – that we work it out so I can go between them!"
All that and he's just got married, too. He and his new wife have a 15-month-old son. When does he get time to sleep?
"It's a big job. I don't have any hobbies at all. Producing is all I do. I go to bed thinking about it and I wake up thinking about it, and I dream about it, too. In the evenings, I go to the theatre; on the weekends, I go to the theatre. You've got to love it. You couldn't produce pantomime if you weren't a bit mad," he says, with both feeling and a small sense of understatement.
Harrison has been at Qdos since his early 20s. "This is my 13th year here. I'd been working in David Pugh's office as a production assistant after I moved to London [he went to university in Edinburgh], and he very kindly gave me the rights to Art.
"I decided to mount it with Harrogate Theatre, where Hannah Chissick had just taken over as artistic director and had been an assistant to Matthew Warchus in the West End.It cost only £30,000 to put it on, would you believe, but I needed investors and didn't know how to raise the money. I thought 'producers are rich', so I wrote to them all or rang them up. One was Nick Thomas, who runs Qdos. He put up £10,000 out of the £30,000. He got it back, and more."
One night he and Thomas were talking about what Harrison wanted from his life and career.
"I told him I really, really wanted to produce musicals, but I love panto as well and thought maybe it could provide a backbone to producing musicals. So he invited me to join his company as an executive producer, and he gave me three shows to look after in my first year. But then another producer working for the company left, and they'd had five shows that were handed to me. Suddenly, having never produced a panto in my life, I had eight. Some were quite good; some were all right."
That was 2004, and he's long since made his professional home at Qdos, running his own company, Michael Harrison Entertainment, from the same office. "I run my own business producing musicals from here the rest of the year, but I don't look at it as two different worlds. It's all part of the same thing."
He has only a small producing team in the office looking after it all. Besides himself, there's Jonathan Kiley, who looks after all the panto casting ("we're like brothers; I oversee it all and come up with creative ideas, and we cast the stars together, but then he does the rest of the casting, which is a massive job"), production manager Mark Sherwood and general manager Jake Hine, plus a marketing team and accounts.
Continues…
---
Q&A: Michael Harrison
What was your first non-theatre job? I've never had a job that wasn't theatrical. My first paid job while I was at university in Edinburgh was to get a job as an usher at the Edinburgh Playhouse when The Phantom of the Opera was playing, so I could watch it every night. I hid from selling ice creams and saw it 100 times. My first producing job was a show called Born to Sing, with Lesley Mackie playing both Judy Garland and Edith Piaf. I had only £400, which I spent at the printers getting the leaflets printed that I'd designed. We did a week at Perth Rep, then two nights at the King's Theatre in Glasgow and also played Whitley Bay and Pitlochry.
What do you wish someone had told you when you were starting out? I knew it was hard, but now I realise it's a marathon, not a sprint.
Who or what was your biggest influence? Other producers. You can't be a producer and not be influenced by other producers. I love looking at what others are doing.
What's your best advice for auditions? Coming in prepared makes such a difference. I sometimes see serious named performers and am amazed at how prepared they are. Their work is meticulous and they've learnt it all. Then I see people starting out who come in at the wrong time and aren't prepared at all.
If you hadn't been a producer, what would you have been? I like to talk and tell jokes. I once saw myself as a Brian Conley-esque comic.
Do you have any theatrical superstitions or rituals? I talk a lot to whatever is up there. On opening nights, I'll say, "Please let it go right and don't let scenery get stuck." At Newcastle, there's a picture of the late Peter Sarah, the great manager I knew there, and every year I walk up to his picture on the first day and say, 'Make it a good one.'
---
Perceptions around panto have changed dramatically over the last few years, not least because of Ian McKellen's famous panto dame turn at the Old Vic in 2004.
"It's easier for actors to say I'm going to do it now, because McKellen has," says Harrison. "One of the great things that has happened to panto over the last few years is that talent that would have been sniffy about pantomime isn't now. The last generation of choreographers forgot about it – the ones before, like Gillian Lynne, didn't. But now they're back: Drew McOnie did Birmingham with me two years ago and we had the best time with Jack and the Beanstalk there; Karen Bruce did Birmingham with me five years ago and is doing Glasgow this Christmas; and Andrew Wright is co-directing Cinderella with me at the Palladium now."
Getting panto back to the Palladium has been a particularly big deal for Harrison.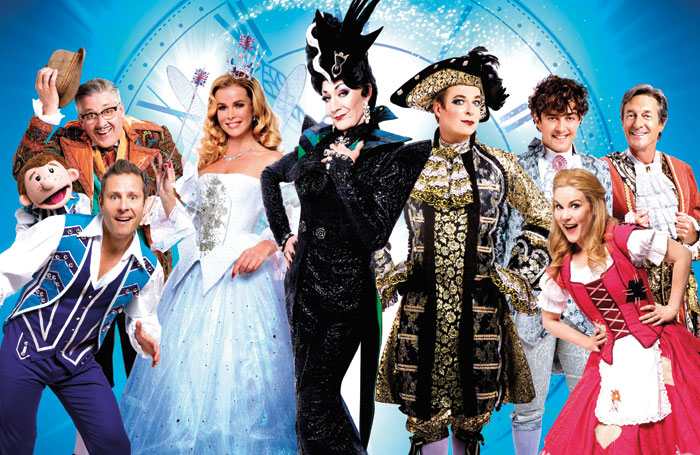 "There has to be an integrity and a level of class, but at the end of the day, I don't want to do an off-the-track or alternative panto, either," he says. "I want it to be very traditional and starry. I come from the world of loving Frankie Howerd, Dick Emery, Danny La Rue and Kenneth Williams – and Julian Clary and Paul O'Grady are the modern-day equivalents of all of that, and we've got them both. We've also got Amanda Holden – she'd played Drury Lane [in the original cast of Shrek] and she's got two little girls and said she wanted to play the Palladium. The theatre is a big factor in all of this – it is as important as the show."
Harrison has deliberately not stinted on Cinderella's scale or star power – it also features Nigel Havers, Lee Mead and America's Got Talent winner and panto ventriloquist favourite Paul Zerdin among its cast of 32, including 22 in the ensemble, and a 12-piece orchestra.
"Nick [Thomas] and I think that if this only happens once, we want to make sure we can be as proud of it as possible. So we've not really set a budget, we want it to be the best we can make it. We've got £1 million worth of sets and costumes, and are working with the Twins FX to create three big flying effects."
Of course, one of the tricks of panto producing on the scale Qdos works is that the investment in the physical production can be reused when shows play in different cities in future years.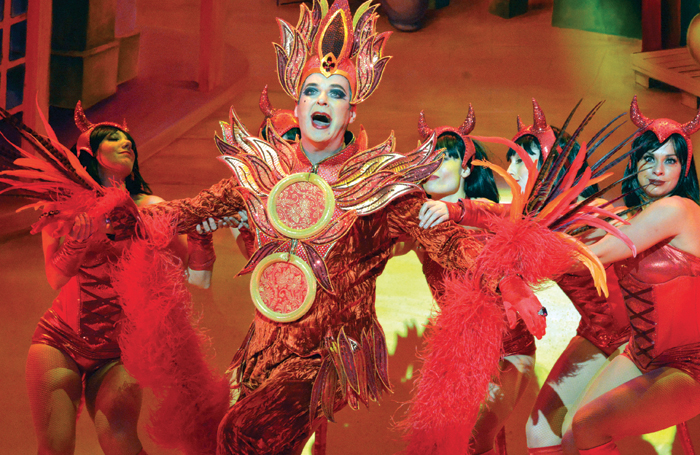 "We've already confirmed every title for next Christmas, and we work out on rotation what the titles will be and where we can place the scenery. I know now that the physical production in Bradford this year will be in Newcastle next year, and Bromley will go to Belfast. And Newcastle, which I direct, is often the testing ground for trying out special effects or new comedy routines that we can then do in other places."
The company has a regular stable of popular stars, including Brian Conley, Joe Pasquale, John Barrowman and Lesley Joseph, but they don't simply recycle the same parts again and again: "Joe has done seven seasons and played four different titles."
So far, so traditional; but the last few years have also seen the introduction of stars from beyond that panto legacy, such as David Hasselhoff (who reprises his Captain Hook in Peter Pan in Cardiff this year) or Britain's Got Talent winners Ashleigh and Pudsey (in Dick Whittington in Northampton this year).
But Harrison stresses that he believes firmly in panto addressing its local audience directly. "Gerard Kelly, a Glasgow actor who worked on the first two pantos I did but is no longer with us [Kelly died in 2010], was once asked what panto is. He replied: 'A celebration of local culture.' That's hard in London as cultures change, but I want the London Palladium panto to be like sitting with the family on a Saturday night watching a big variety show. That's what the Palladium is about and we have to honour that. The opening number is called On Argyll Street and it's set in the royal kingdom of Soho, so we're giving a nod to the area and the building."
The original production of The Bodyguard in 2012 was Harrison's first excursion into the West End after a decade as a touring producer of titles such as Aspects of Love and The Witches of Eastwick.
"I was wary of producing in the West End. A lot of people said we should have brought Aspects of Love in and I toyed with doing a limited season of Witches, but nothing ever felt right.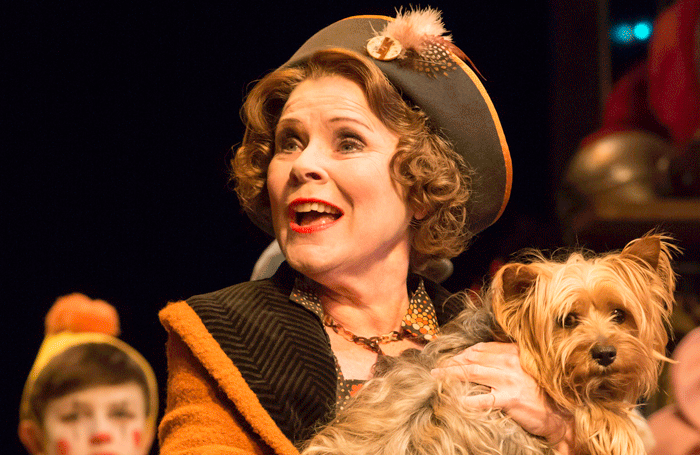 "But when I had the idea for a stage version of The Bodyguard, I realised it couldn't just be a touring show to begin with or I wouldn't have got the rights from Larry Kasdan, who wrote it, or Warner Brothers, so I had to step up to the big time. Like, love or loathe The Bodyguard, I think that in its jukebox form it is a bloody good example of that kind of show, and it had played at the Adelphi for just under two years. It then had a complete sell-out, 18-month UK tour, and has been selling out again at the Dominion. After it leaves there, it moves to Toronto for 14 weeks with its entire cast, and with the tour that opens this month in New Jersey, there will be two North American productions at once."
He's not set his sights on Broadway so far. "It's a difficult market, especially for shows like The Bodyguard. We Will Rock You never went there and Dirty Dancing hasn't so far, either. If the US tour is successful, we'll have conversations about it."
More immediately, there are advanced discussions about taking Imelda Staunton in Gypsy to Broadway. "It's all about timing, being in the right season and at the right theatre."
He and Ian were in on Gypsy from the very beginning, ahead of its Chichester opening, providing enhancement money and then transferring it to the Savoy. "I asked [director] Jonathan Kent why we got it, and he said he loved the marketing on The Bodyguard – he felt we made that show feel like it was a smash to the public. It's amazing how you can do a jukebox musical like The Bodyguard and move on to a classic like Gypsy as a result."
Continues…
---
Michael Harrison's top tips for an aspiring producer
• Be honest.
• Be classy.
• Be kind.
---
Earlier this year, Harrison also brought Mrs Henderson Presents, a new British musical based on the 2005 British film, to the West End's Noel Coward Theatre, where it ran for five months without recouping.
"I wish we'd run longer, but it was a small show, so it was not a colossal disaster. I don't regret doing it at all. My last two shows had been a jukebox show and a revival, and I wanted to do something new. I really liked the material and loved the team. We took a pause after we [first] did it in Bath [at the Theatre Royal] in 2015, when I wondered if I really wanted to move it. But if you don't, you will never know. And it lives on – we're doing it in Toronto next year, taking a British company led by Tracie Bennett."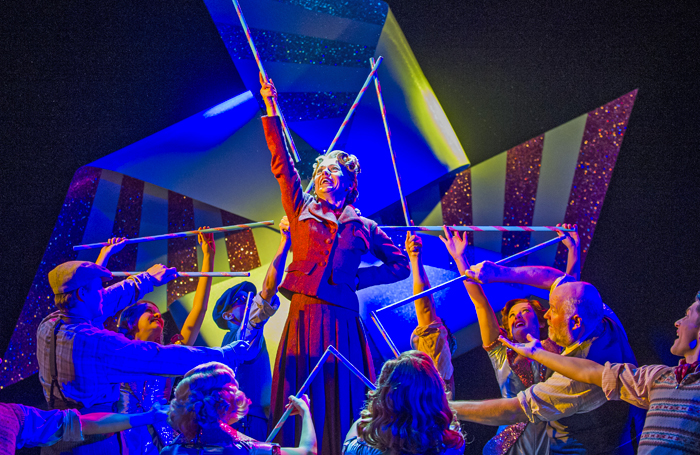 Just as The Bodyguard took Harrison to Gypsy, Mrs Henderson Presents led him to Mel Brooks' Young Frankenstein, which he's bringing to the UK next summer.
"Mel's manager came to London and had dinner with three people. Each of them suggested he spoke to me. Then he came to see Mrs Henderson Presents, and it made him think that I was someone who made a musical work in a playhouse. To make musicals work in smaller houses is hard. That's why we're going to Newcastle, doing an old-fashioned, out-of-town try-out. We've taken the [Theatre Royal] for four weeks, and are going to play it for two. Mel has reconceived Young Frankenstein as a small, vaudevillian show, and completely rewritten the script, cutting five songs and adding two."
He's already set his sights on getting it to the West End afterwards. "It would be great to open it in the autumn. It would be fun to open at the same time as Hamilton."
Earlier this year, Harrison also helped the Menier Chocolate Factory bring Fiasco's production of Into the Woods from Off-Broadway to London. "Gypsy had been so life-changing for me. To be a part of it was extraordinary. So I felt I owed a debt to Stephen Sondheim."
Although that didn't lead to a further life, it led to something else: an invitation to tour the Menier's production of Funny Girl next year. "Sonia [Friedman] called and said: 'I know you know the road. Do you want to do it?' "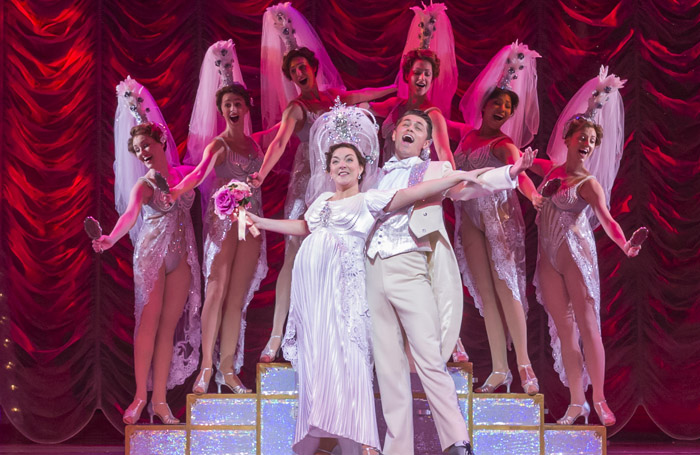 He's also taking on managing the tour of Beautiful – The Carole King Musical in 2017, and feels it perfectly complements his skill set. "I have a relationship with lots of the theatres because of the pantos. I know them inside out. I know the managers, where the dock doors are, where the wagons park and when you've got to have the parking meters suspended."
Touring has long been the bread and butter of many a producer. "Disney has a great line about producing in America: 'There's more to it than just four or five blocks on Broadway.' If you think about the great producers – Cameron Mackintosh, Bill Kenwright, Paul Elliott, David Pugh – they all come from the road. There's not a lot that they don't know about the size of the dock doors, or who the editor of the local paper is.
"If I can go from producing the bulk of the major pantos in the country, including the London Palladium, to touring my own productions, developing new musicals and general-managing others, that is a great mix of work."
---
CV: Michael Harrison
Born: 1979, Newcastle
Training: Queen Margaret University, Edinburgh
Landmark productions: Aspects of Love (UK tour, 2007), The Witches of Eastwick (UK tour, 2008-09), Gypsy (Chichester Festival Theatre, 2014; West End, 2015), The Bodyguard (West End, 2014 and 2016; UK tour, 2015-16; Ultrecht in Netherlands and Cologne in Germany, both in 2015; North American tour, 2016, Australia tour, 2017), Mrs Henderson Presents (Theatre Royal Bath, 2015; West End, 2016)
Awards: Olivier for best musical revival, Gypsy, 2016
---
Cinderella runs at the London Palladium from December 10 to January 15