Olivier award-winner Jenna Russell has built an impressive career playing funny, bright, complex women, but at 51 she fears the work could dry up. The musical star speaks to Tim Bano about preparing herself for her future, her love of Sondheim, coping with EastEnders fame and embracing her romantic side for The Bridges of Madison County
---
Whenever there's an announcement about an exciting musical coming to a UK theatre – whether a Broadway import or a Sondheim revival – it's a fair bet that Jenna Russell is involved.
The Olivier winner's 35-year career seems, from the outside, incredibly well curated. Almost every show she's been in has earned rave reviews and the ones that left critics cold have only further fired up her huge and loyal fan base.
In the past decade or so, that career has included shows such as Fun Home, Grey Gardens, Urinetown, Mr Burns, Merrily We Roll Along, Into the Woods, Sunday in the Park With George; each one, in its own way, a watershed moment in the theatrical landscape.
And yet, through Olivier wins and Tony nominations, through roles in the most exciting stage musicals and biggest TV soaps, despite being one of the most acclaimed musical theatre actors in the UK, Russell is worried the work may soon dry up.
"It's been a lovely career, but I am 51 and I am a woman. I'm aware it could all stop tomorrow. I should just enjoy it, because before too long I will be twiddling my thumbs."
The canon of plays and musical theatre is skewed against women, she explains. "I've always been aware of it, even when I was at the Royal Shakespeare Company, looking at the plays and seeing a cast of 30 with three female roles, two with lines and one without. There are fewer roles for women, and it only gets harder as you get older."
That's despite fantastic roles for women in musicals: she cites Mrs Lovett in Sweeney Todd, Mama Rose in Gypsy and Aunt Eller in Oklahoma. "But they get done every 10 years. You have to be lucky to be in the right place at the right time." So Russell is "preparing herself" for what might, or might not, come along next. And she hopes it will be theatre. "I love the people, I love the backstage, I love the rehearsal process, I love the audience. It's the place I truly feel happy and understood."
Starting at an early age
It was the theatre world that gave Russell an escape from a tricky childhood. Aged 14 she started going to Sylvia Young Theatre School. "I didn't go in as a serious contender to be in the business. Sylvia's one of those people who gives others a chance. I was quite a damaged young girl. I had an odd upbringing, I'd been to a lot of different schools. I was 14, I could not cope with another 2,000 kids."
Russell had spent her childhood moving around – "I don't know why" – and her parents had split up a lot, which meant dividing her time between them. That itinerant lifestyle was accentuated by her mum, "an extraordinary character", who was 17 when she had Russell in 1967.
"Our house was always full of interesting people. A cruel description of our life would be Absolutely Fabulous, but without the money. She was always turning up in fabulous outfits and looking amazing, and I would be like: 'What time are you coming home, mum?'"
Russell's stepfather was a black cab driver, and did bits of antique and scrap dealing. It was a chaotic time. "Fun, and crazy, but not an easy childhood. There was a lot of love but, honestly, we had a lot of stuff we had to deal with. Sometimes we had money, sometimes we really didn't have money."
But Russell's "forcefully positive" mother encouraged a career as an actor, and it's from her, too, that Russell developed her knowledge, taste and love for music – in particular, jazz. For a few years, Russell's mother went out with acclaimed double bass player Ron Mathewson, who played with Oscar Peterson, Stan Getz and other jazz legends throughout his career, and was known particularly for his association with Ronnie Scott.
"So through my early teens I spent a lot of my weekends at Ronnie's, I'd always end up in the bar downstairs with the greatest jazz musicians in the world. I saw a lot of Nina Simone. They were happy days."
Straight out of Sylvia Young aged 16, Russell's first role was in a musical fairytale based on the songs of Abba, called Abbacadabra. Pre-figuring Mamma Mia! by 16 years, it had some extraordinary names involved: Cameron Mackintosh produced the show, and Don Black, Mike Batt and David Wood were on the creative team. It starred Elaine Paige, BA Robertson, Sylvester McCoy, Phil Daniels and a young trio of Russell, Nigel Harman and Dexter Fletcher. "It was amazing. I have tapes of it somewhere and I still sing Fernando to Dexter every now and then."
But it was at Sylvia Young's that Russell discovered the man who would be the biggest influence on her life and career. A group of friends, including actors Clare Burt and Nick Berry, formed a Stephen Sondheim appreciation group. "He has been an inspiration ever since. If I have trouble with any role I think: 'How would I attack this if I were doing a Sondheim piece?' The work is sublime and has never been and will never be bettered."
Russell had taken over the part of Young Sally in the legendary 1987 production of Sondheim's Follies in the West End, then there was a spate of RSC roles plus some TV throughout the 1990s. But a "career-changing moment" for Russell came when Michael Grandage persuaded her to play Sarah Brown in Guys and Dolls at the Piccadilly Theatre in 2005 alongside Ewan McGregor, for which she received her first Olivier nomination.
"A week later," she says, "I was cast in Sunday in the Park With George." Starring with Daniel Evans, she played Dot, the fictional mistress of pointillist painter Georges Seurat, in the West End and then on Broadway. The role earned her an Olivier win and a Tony nomination. Her Sondheim association continued with Merrily We Roll Along in 2012, playing bitter ex-novelist Mary – another complex character, and another Olivier nomination.
Choosing roles
If anything defines the roles she's taken on, it would be character. She describes herself as a "character actress", and almost every part she's played has been a deep and complex character, rather than just a mouthpiece for songs.
Sometimes that's written intricately into the book of a show – Merrily We Roll Along, Grey Gardens, Fun Home – but sometimes it's the depth that Russell brings with her. They're brilliant roles for women, too.
This isn't chance. Russell has an extensive knowledge of musicals, old and new, and seeks out the shows she is a fan of. "I wonder if I lean towards musical theatre more because they have good roles for women. I mean, not in your average, everyday, mega-successful blockbuster show – they kind of go down the same route of very young, ingenue-y women and I've never walked that road – but in terms of the new wave of musical theatre, there are great roles."
Continues…
---
Jenna Russell on… auditions
I really don't know what auditions are anymore. I don't know what they are. The pressure for TV is that you're off book. It's crept in over the past 10 years. I hear so many people say you have to learn everything, then I think that doesn't help because all you're doing is trying to remember stuff. Acting is about listening, it's not about repeating something you've learned. So I don't get what people are looking for. Then you hear people say: 'The Americans are coming and you've got to be off book.' But then I ask the US casting directors: 'Do you expect people to be off book?' and they're like: 'Absolutely not.' So I don't know where it comes from. The only thing I can think is that it's the executive producers, who don't know what acting is. If they see somebody standing up and saying the lines, not looking at a piece of paper, they go: 'Well, they can act.' I made a deal with myself about six months ago that I would not learn it, but I'd be very prepared, I'd look at it, I would try to understand it as well as I could and I'd try and look off the page as much as possible, but I'd never put the page down. But I think young people are being taught something completely different. In my age group, all I hear is: 'I don't want to be an actor any more'. Honestly. They say all the joy has been stripped out of it by having to learn lines. So, auditions – I don't fucking know.
---
Nor has she any problem hustling to land those roles. Menier Chocolate Factory artistic director David Babani walks past as we're speaking, and confirms a story about Merrily We Roll Along. When Russell heard the Menier was staging the show, she rang Babani and said: "Please cast me as Mary." "I did," smiles Russell. "And I did," adds Babani.
"I'd had a really bad couple of years and my confidence had gone through the floor. Jonathan Butterell rang me up and said: 'Come and do Soho Cinders.' I was like: 'But there's nothing in it. I love George [Stiles] and Anthony [Drewe] but this is a terrible part.' But my husband's brother said: 'You can't play the lead all the time' and I remember thinking: 'You're absolutely right. What a twat. Of course you can't.'"
It was while playing Marilyn Prince in the satirical take on Cindarella, that another member of the cast mentioned they were auditioning for Merrily We Roll Along, with Maria Friedman directing. Russell was desperate to be seen for it. "I thought, 'I can't text and just ask to be in it,' but then I thought: 'Fuck it, they can only say no'." So she asked for an audition. "And you had a string of five-star reviews, and a very effective fat suit," jokes Babani.
Her latest role – another complex character – had a slightly different casting process, in that there wasn't one. The Bridges of Madison County is based on the hugely successful novel by Robert James Waller, in which an Italian woman, living in Iowa with a husband and kids, has a four day affair with a photographer who comes into town. Despite winning a Tony for best score and for best orchestration, Jason Robert Brown's musical only ran for three months in 2014.
The Bridges of Madison County review at Menier Chocolate Factory, London – 'intimate and affecting'
"David [Babani] rang me and asked if I wanted to do the show. I saw that Francesca was quite soprano, quite Italian, very sexy. I thought: 'Oh no that's not me. It's just not me. ' I panicked, and told David I wasn't the right person for it."
But last year, while Russell was starring in Fun Home at the Young Vic, she couldn't stop listening to the Broadway cast recording. "The music was bleeding into me and I would go into work sobbing. So I thought: 'Get a grip. You can do it. Stop thinking you're too old. Get over this ridiculous idea that you can't be romantic'. So now, whatever comes of it and whatever people think, fuck it. It was meant to be." Essentially, then, the show has been mounted for Russell. "Well, ish," she scoffs.
Merrily, Grey Gardens, Fun Home, Urinetown, Sunday in the Park With George – now The Bridges of Madison County. These all contain "funny, bright, fearless, complex, strong women", she says. But the other common thread is that they are all American shows. So is British musical theatre lagging?
"It has got better, but musicals are seen as a second-rate art form. Which is so wrong. I defy anyone to watch Caroline, Or Change and not think: 'This is an important piece of writing.' Those shows – and there are plenty of them – when they're done right, they can make your point better than a lot of plays."
For Russell, music is what elevates a piece of work from ordinary to extraordinary. "You watch ET – that bit when he's on the bike with that John Williams score – that film would not be that film without that score. It's just a fucking alien flying off into the sky with some little boys on a bike, which is ridiculous, but add the music and you're sobbing. In the modern musical, when you have skilled people doing it, it doesn't feel as though they're singing. It feels like they're continuing to talk but it is expanding like a balloon that's filling up. It's an old saying, but I love it: when you can't speak anymore you have to sing, and when you can't sing anymore you have to dance."
Continues…
---
Q&A Jenna Russell
What was your first non-theatre job?
Usherette, Duchess Theatre and Astoria in London.
What was your first professional theatre job?
Abbacadabra, Lyric Hammersmith, 1981.
What do you wish someone had told you when you were starting out?
Don't be afraid to say no. I struggled with that a lot.
Who or what was your biggest influence?
Stephen Sondheim. And, as a teenager, I had a massive love affair with Meryl Streep.
If you hadn't been an actor, what would you have been?
Honestly, fuck knows.
Do you have any theatrical superstitions or rituals?
I always cross myself. I don't know why, I'm not religious. It's ridiculous. I do it one way, then I do it the other way, then I have to do it with my right hand after doing it with my left hand. And every time I go: "Why am I doing this?" But I try not to get too superstitious about things, because you end up with a ridiculous checklist. I like to try and keep as calm as possible. Because no one's going to kill you if you get it wrong. You're just telling a story. It's okay.
---
Avoiding dance and agreeing to EastEnders
Luckily for Russell, the moments in her career when she's had to dance have been few. There was the Mirror Number in Follies in 1987 – "I fell over more than I stood up. Choreographer Bob Avian used to despair. I said: 'Please, I ruined my mother's floor trying to learn this tap.'" – and a 15-minute dance number with Ewan McGregor in Guys and Dolls. "I said to Michael Grandage and Rob Ashford, I can only make this work if I can make it funny."
But in 2016, it seemed like musical theatre might lose Russell for a long while. She was cast in EastEnders. "I was in France with Anthony Drewe, and I got a phone call saying: 'EastEnders would like you, would you do it?' I asked who the character was, but they wouldn't tell me."
She was adamant from the off that the soap would not swallow her for the rest of her career. "I don't see the point of being a freelance actor and being in something forever. It just doesn't suit me."
At that point, Russell had just starred in Jamie Lloyd's production of Doctor Faustus as Mephistopheles alongside Kit Harington, for which she'd had to shave her head. "I said to my agent: 'Tell them I have no hair, I won't look attractive.' She said 'They don't care about your hair' and explained the role."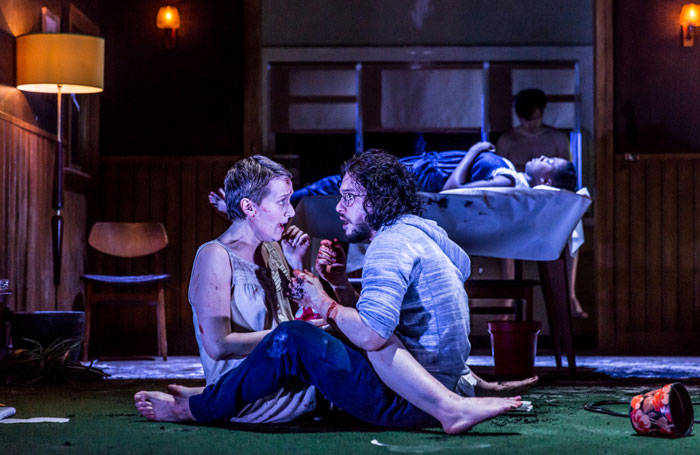 Russell was to play Michelle Fowler, one of the show's original characters when it started in 1985, and one of its most memorable. Fowler was memorably played by Susan Tully for a decade, so there was a lot of chatter when it was announced that the role was recast with Russell.
She had "a lovely time" for a few months – during it she had a relationship with an underage student, got mixed up in a love triangle involving her niece, was stalked by a man she met on the tube, and crashed a car into the local chippy – but started to get itchy feet.
Her character's departure was announced in 2018, and rumours suggested Russell had been axed from the show. But she explains that wasn't the case. "I heard Fun Home was coming along, and I thought I'd like to do that. So when I was renegotiating my contract, I said: There's a job I want to do, if I get it, can I do seven months and then be free?' They said: 'Absolutely.' So it was a mutual, lovely thing."
Although she loved working on the show, the scrutiny that came with such a high-profile TV role was "fucking horrendous", she says. "I don't know how people who are in it a long time cope. Twitter can be horrible. Most people are lovely, but every now and then they forget that you are a person."
It's all about choice. "You can choose to be a wanker, or you can choose to be a decent human being. And so often in this business I say to young people I work with: 'Every choice that you make will reflect your future.' How you talk to your dresser. How you interact with the box office. Sometimes they're just dressers and that's a great job that deserves your respect. Sometimes these people go on to run the National Theatre and they will remember every time you behaved like a shitbag. Choose not to. Half of your job as an actor is not how you behave on stage, but how you behave off stage. It's an easy fucking fix. Just be decent."
A couple of Russell's recent roles have been incredible pieces of work in the way they've spoken to the next generation of theatregoers. There was Doctor Faustus, packed with young women keen to see Harington on stage; there was Fun Home featuring, incredibly rarely, a lesbian protagonist; there was Mr Burns, melding religion and ritual with The Simpsons and Britney Spears.
And Russell can't get enough of it. "I sit in rehearsals sobbing, watching moments that are so beautiful. I saw the audience demographic change with Mr Burns, with Doctor Faustus, all these young people. I saw the Fun Home audience, so many young gay people clinging on to each other and seeing themselves on stage. What a fucking incredible thing. Those shows are important. And I feel so lucky – I mean this honestly, I'm not just saying it – I really do feel lucky to have been part of some really extraordinary things."
---
CV Jenna Russell
Born: London, 1967
Training: Sylvia Young Theatre School, 1981-83
Landmark productions:
• Guys and Dolls, Piccadilly Theatre, London (2005)
• Sunday in the Park With George, Wyndham's Theatre, London (2006)
• Merrily We Roll Along, Menier Chocolate Factory, London (2012)
• Mr Burns, Almeida Theatre, London (2015)
• Grey Gardens, Southwark Playhouse, London (2016)
• Doctor Faustus, Duke of York's Theatre, London (2017)
• Fun Home, Young Vic, London (2017)
Awards:
• Theatre World for Broadway debut performance (2008)
• Olivier award for best actress in a musical for Sunday in the Park with George (2007)
Agent: Ruth Young, United Agents
---
The Bridges of Madison County is at London's Menier Chocolate Factory until September 14
Fun Home composer Jeanine Tesori: 'Musicals are slippery, but I love the puzzle of them'