From making props at university and working the photocopier at the Royal Court to becoming one of the hottest commercial producers around, Eleanor Lloyd shows the value of a nuts-and-bolts apprenticeship. After taking Emilia to the West End, she tells Tim Bano how sensing the right time and place is key to making things work
---
A couple of years ago, Eleanor Lloyd was on a train from Liverpool back to her home in Oxfordshire. During intermittent moments of phone reception she was checking reviews, analysing sales figures, reading the new draft of a script – and trying to recast a Cavalier King Charles spaniel in the West End production of Nell Gwynn for a press photoshoot the next day. "Sadly the first dog, or it might have been the second by then, hadn't cut it," she says.
Not for the first time, Lloyd remembered a line from Shakespeare in Love, that she produced on tour last year: "Let me explain about the theatre business," producer Philip Henslowe says to investor Hugh Fennyman. "The natural condition is one of insurmountable obstacles on the road to imminent disaster." But Lloyd is forgetting the next bit of the line: "Strangely enough, it all turns out well." And it has certainly turned out well for Lloyd in the last few years.
It's press night for the West End transfer of Morgan Lloyd Malcolm's play Emilia, a brilliantly, ferociously, unashamedly feminist play, that Lloyd has produced along with Eilene Davidson, Kate Pakenham and Nica Burns. It is not an accident that they are all women. So are the show's writer, the cast and the entire creative team.
Emilia review at Vaudeville Theatre, London – 'Morgan Lloyd Malcolm's play roars into the West End'
Lloyd is sitting in the upstairs bar of the Vaudeville Theatre, where two front-of-house staff get drinks ready for the critics and guests who will be arriving in the next couple of hours. Behind her is a window looking out on to the Strand. The twinkling lights of the Savoy are visible just down the road, where Dolly Parton's 9 to 5 the Musical is playing, written by two women, with three women in the lead roles. Next door, the Broadway production of Waitress has just opened. Composer, writer, director, choreographer, musical director – all women.
Beside Lloyd is a poster for Emilia, splashed in huge letters with the strapline: Our Time Is Now. Those words could be about women in theatre as a whole, just as much as they could be about Lloyd as an individual. Recently she has been behind some of the big hits of the West End and further afield, producing 1984, Nell Gwynn, My Night With Reg and the UK tours of Handbagged and Shakespeare in Love.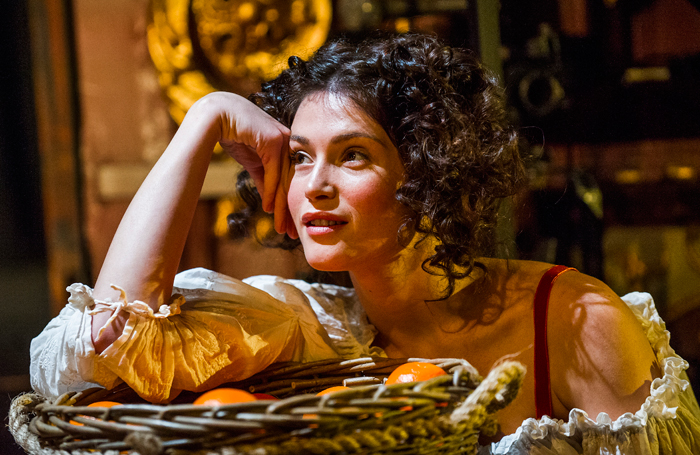 Eye on the popular
And during the last couple of years, Lloyd has cemented her reputation as one of the hottest producers of the moment. Agatha Christie's Witness for the Prosecution opened at County Hall in London in 2017 and has been playing for more than 18 months. A musical based on the life of Dusty Springfield toured last year. Now there's Emilia.
These are not elitist pieces of theatre, nor do they rely on starry casts to sell tickets. And that is what sets Lloyd apart: she has not been reciting Shakespeare since she was three. Instead she has one eye on the popular – site-specific Agatha Christie, George Orwell made raw and sexy – while the other ensures that her productions have integrity as pieces of theatre. "That's what I like," she says. "I want it to be classy and proper and good, but also entertaining and something people would want to go to on a Tuesday night."
Lloyd was brought up on a farm in the Lake District and went to a local grammar school. Theatre didn't figure much in her childhood. In fact, the first play she saw on her own was at the age of 20 when, backpacking in America, someone at the TKTS booth in Times Square recommended a musical revue called Smokey Joe's Cafe.
She went on to Cambridge to study an obscure degree called 'land economy' and happened to be in the same year as a student called Jack Thorne who had written a play – his first – called The Wave. "It involved these kind of Nazi banners flying in at one point, and a message went round saying: 'We need someone to make the banners, does anybody have a sewing machine?' I had taken my sewing machine to university so I made them."
Going backstage, she found someone giving instructions, who told her exactly how big the banners had to be and what they had to look like. "I was like: 'Who's that person?' She turned out to be the producer, and I realised that's what I wanted to be." University shows followed, some of which Lloyd took to Edinburgh, then she graduated, moved to London and had no idea what to do.
"Somebody sent me a link to a work experience job at London's Royal Court. I had never even heard of the Royal Court. But I basically learnt to work the photocopier and once you can work the photocopier everyone needs you, so I managed to work in every department at the Court."
Now one of the people shaping the country's theatre ecology, those photocopying days are a distant memory. When Emilia closed at Shakespeare's Globe after just 11 performances, it had already inspired devotion among its fans who, though desperate for a West End transfer, doubted they'd ever see one. After all, it's not the most obviously commercial proposition: a fierce and feminist play about the obscure poet Emilia Bassano.
And yet, Lloyd explains, it was actually quite easy. Lloyd had her second baby in February last year, she produced the national tour of Dusty from May, Shakespeare in Love started rehearsals in September, and Witness for the Prosecution continued to run at County Hall in London. She decided to take a break.
"Then I start seeing all these people talking about this show at the Globe, and I think: 'Oh man, this sounds really good.' " On the show's penultimate night, Kate Pakenham, the Donmar's former executive producer, saw the show and tweeted enthusiastically about it. That was the decider for Lloyd. She went on to the Globe's website and found one single seat left for the final performance the next day.
"And it was just this incredible buzz. It was the youngest, most diverse audience. And two things happened: one is that emotional response, as an individual, thinking: 'This is really exciting and really important.' And at the same time my commercial head was going: 'Look at all these people having a really great time and responding to it and getting excited about it.' "
Lloyd talked to one of her closest co-producers and investors, Eilene Davidson, who was on board too, and they rang Nica Burns. "We were pretty sure that if Nica didn't want to do it, it wasn't going to happen." After watching a recording of the show from Edinburgh, Burns rang Eleanor back and said: "Would you like one of my theatres?"
The next step was raising the money. It's rare for a new play to go straight into the West End, "because it costs hundreds of thousands of pounds and somebody has to decide to risk that money. The fact that anybody invests their hard-earned cash at all is frankly slightly miraculous."
But when Lloyd messaged a few potential investors, they said: "I get it. It's crazy risky, but I absolutely get it." Raising money for Emilia, Lloyd admits, was "remarkably easy". She's also pretty certain that it would never have made it to the West End 10 years ago, because the audience simply would not have been there. That's not to say they didn't exist, but that they were not being spoken to.
"The way that shows now transfer from the non-profit sector to the West End has changed, and that is in large part down to Sonia Friedman," she says. "The expectation of what you can see in the West End, that's changed. When Sonia and I did 1984 lots of people said to us: 'You are crazy. It's 1984. It ends with a scene of torture. You're going to put it in the Playhouse Theatre in August. Really?'"
Continues…
---
Q&A

Eleanor Lloyd
What was your first non-theatre job?
Chambermaid at the M6 Burton services Travelodge.
What was your first professional theatre job?
Royal Court, administration.
What do you wish someone had told you when you were starting out?
You can only ever do your best. You need resilience, it is absolutely a rollercoaster and you need to be able to pick yourself up when stuff goes wrong. Not to wake up in the night worrying about stuff. I spent a long time taking everything very personally, and I didn't realise how stressful that was. Ultimately if you're a decent, thoughtful human being people will respect you even if you get something wrong.
Who or what was your biggest influence?
Diane Borger, who took me under her wing and told me I can do this. She was general manager of the Royal Court for years, and is now executive producer at American Repertory Theater in Boston and a producer of Waitress.
What's your best advice for auditions?
If you can, smile and be yourself. Because the director is looking for a connection with you, because they're going to have to be in a room with you for quite a long period of time.
If you hadn't been a producer, what would you have been?
I would have run another business.
Do you have any theatrical superstitions or rituals?
No.
---
Lloyd and Friedman produced it for three consecutive summers, and not only did it make money each year, it attracted a completely new audience. "It was a young audience, they would turn up at 7.29pm and ask where the bar was. Cumulatively, these things do change." The important thing for Lloyd is that theatregoing is a habit, and there has to be enough new and exciting work to help form that habit in new audiences. "For theatre to succeed as a business people have to have the habit, which means they'll then take a bit of risk."
Cultural shift
Part of the problem is the perception that comes with certain types of theatre, and with certain types of show. "There's a funny thing where if a show has women in it, it becomes a women's show. If a show has men in it, it's not a men's show. Nobody says: 'Oh I can't go and see that show as a woman because it's got all men in it.' That's part of what we're trying to change."
And the change is starting to happen with Emilia. Lloyd has already noticed lots of young men in the audience who "really understand it, who don't feel threatened by it, who feel encouraged and inspired by it because that's what I felt when I left the Globe. It activated me." So what is it that attracts Lloyd to a show? She is adamant that there is no formula for a hit, and that there are no hard and fast rules. The enjoyment of the audience is paramount – "You've got to close your eyes and imagine on a Tuesday night that people are going to want to see it." But personal taste is really important too.
"An actor once told me about how he chose his film roles. He said he would imagine himself on set. It's four in the morning, it's raining, it's miserable, nobody is really getting on. Could he sit there and think: 'I know why I said yes to this'? I think you have to feel that because it is really hard. It is really risky. It is really stressful. When it's not going well, whether that's financially or whether it's because people aren't getting on, you have to be able to look yourself in the eye and think: 'I know why I chose this one.' "
Although she insists there is "no such thing as a banker", when it came to Witness for the Prosecution she knew almost the instant it went on sale that it would be a hit. The last 18 months have proved her right. It was the culmination of several years' work, and some tricky negotiations – not least in securing the extraordinary site that houses the production.
Ultimate people person
London's County Hall sits under the London Eye on the south bank of the Thames. Inside the vast building are the London Aquarium, the London Dungeons and a Premier Inn.
But most of it, including the opulent council chamber, has been empty for years. Lloyd reached a deal with the Japanese corporation that owns the building to use the Council Chamber as the setting for Agatha Christie's courtroom drama, and audiences have been lapping up the period splendour.
But that's not the only thing that's helped to keep the show running so long. Unlike putting a play into a West End theatre, where the venue owner soaks up the profits from programmes, the bar and interval ice creams, at County Hall everything spent on site goes to the producer. That's a significant chunk of cash. Now that the show has recouped its initial investments, as long as they can shift enough tickets to cover running costs, there's no reason why it shouldn't go on and on.
Being a producer isn't just about identifying a hit. It needs serious financial skill, and it needs people skills that are deft enough to keep everyone – from investors to actors to front-of-house teams – all happy all of the time.
"This is how I describe my role: at the end of a show you end up with a file of invoices and income statements and for every bit of every single one of those things you have made a decision that has led to that happening – whether it's the casting, or the marketing, or the cost of the drinks on press night. Then it's also the management of people. You're ultimately an employer of a lot of people. I've probably employed more than 250 people this year."
Richard Jordan: Producing is the art of putting shows on in the right place at the right time
On top of that, Lloyd does this while commuting from Banbury in Oxfordshire, where she lives with her partner and two very young children. The idea of a producer having a personal life goes against the stereotype, and Lloyd does admit it's extremely hard. Life as a producer is all-consuming, and precisely when it will consume you is unpredictable.
Last week, she was bathing her children when the phone rang: ITV News wanted to do an interview for Emilia the next day. "I had the phone under the bath texting people to try to work out what we were going to do, where we were going to film it, how it was going to work. It's the joy and the curse of the mobile phone. You usually find producers sitting in corners near a plug socket. I remember going to see the Benedict Cumberbatch Hamlet at the Barbican, and I went to the stage door to drop in a gift for a friend of mine who was a stage manager. Sonia was sitting on the kerbstone outside and I was like: 'Oh, thank God for that' because I'm always sitting outside on the kerbstone."
Continues…
---
Eleanor Lloyd on…
… Investors:
They are passionate about theatre. Every show is paid for by an individual, basically. And, yes, they're doing it because they think they might make money. But most of the time they don't, and if they wanted to just make money it wouldn't be top of the list of sensible things to invest money in. They're a critical bit of the ecosystem that often gets overlooked.
… Working with directors:
I do give my opinion. I might sit there and think, as an audience member, that costume makes me think X when you're trying to make me think Y. Which might be in conflict with a director and you wrestle it out. I'm not a producer who throws their weight around. I've never thought about being the scary, cigar-chomping producer. But now and again you remember that is how you are perceived, just because of how the hierarchy works.
… Star casting:
You're always looking for as many things as possible that will encourage the public to buy a ticket. Most likely it's a name actor. I've got a list in my notebook that I dream about working with. If I could get Allison Janney in a show that would make me very happy.
---
A lot of Lloyd's shows have been co-produced, including 1984 with Friedman, and that idea of mutual support and camaraderie also goes against the stereotype of the egomaniacal, money-grubbing theatre producer.
"Obviously there are rivalries and there are some people who don't work together," she says, without naming names, "but generally it's really supportive because if a show doesn't work it's not good for anybody.
"In the old days it was supportive in a 'let's go for drinks at the Garrick Club' way – still not as uncommon as you might think – and now it's fewer lunches and more picking up the phone, asking advice."
There are three or four fellow producers Lloyd wouldn't hesitate calling if she were in a bind.
"When you're having a tough time, the first thing you do is pick up the phone even, interestingly, in terms of raising money. Co-producing is great because you get to share the ups and the downs. When you're on your own, when the shit is hitting the fan, it's really, really lonely because you can't share it downwards. You don't want to worry anybody else."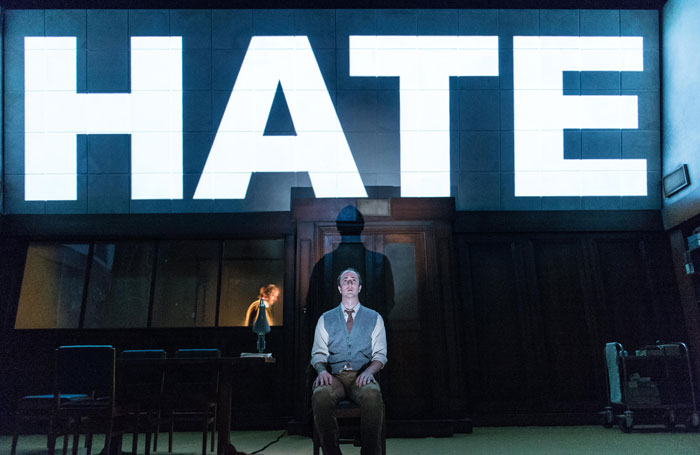 While we've been talking, Lloyd has missed about 10 phone calls, a fair few emails and a load of texts. The press are about to arrive. There is still a lot to do. "Every day there's a crisis," she says while scrolling through dozens of notifications.
So, when press night is over and the show is up and running, will there be a chance to stop for breath? "No," she says flatly. "We will probably have a moment where we take a photograph and go: 'Okay, here we are, we did it.' Then first thing tomorrow morning we will be in a meeting, assessing the reviews, and working out what to do next."
---
CV Eleanor Lloyd
Born: Kendal, Cumbria
Training: Land Economy, Cambridge University; Stage One producer workshops, 2005
Landmark productions:
• Handbagged, Vaudeville Theatre, London (2014)
• 1984, Playhouse Theatre, London (2014-16)
• Nell Gwynn, Apollo Theatre, London (2016)
• Dusty, UK tour (2018)
• Witness for the Prosecution, London County Hall (2017-19)
• Emilia, Vaudeville Theatre (2019)
Awards:
Olivier award for best new comedy for Nell Gwynn, 2016
---
Emilia is at the Vaudeville Theatre, London, until June 15