As the Young Vic's artistic director steps down after 18 years, he leaves the venue in rude health: an artistic and commercial success with a distinct voice. He tells Nick Clark how Yerma became a source of inspiration, why British theatre needs to welcome international voices and how collaboration is essential to theatremaking
---
Shortly before his 20th birthday, David Lan saw a play that would change his life. For reasons now not entirely clear to him, he found himself at a production in Spanish, performed on a giant trampoline. He had never seen anything like it. The play was Yerma, by Federico Garcia Lorca, and was the sensation of the 1972 Royal Shakespeare Company at the Aldwych World Theatre Season. According to the Times, it grabbed its audience "by the throat".
Lan, who had recently moved to London from South Africa, where he was born and brought up, was himself grabbed by the production, and it has never let him go.
"I was 19. I knew nothing and had never heard of its director, Victor Garcia, at that stage," Lan says. "I walked into the Aldwych, I don't know why, but it was life changing. I remember it so well. I thought, 'Wow, I didn't know you could do that.' "
That spirit of internationalism, collaboration, pushing at theatre's boundaries and, above all, the search for "insight" is what Lan has pursued throughout his career and especially during his time as artistic director of the Young Vic.
"I wanted to say: 'We can work with anybody. In fact we should be open to the most powerful, innovative, deeply felt work, irrespective of where it's coming from,' " he says.
It is fitting that, leaving the Young Vic after 18 years at the helm, one of the shows that stands out as a pinnacle among the venue's many successes is its production of Yerma starring Billie Piper, described by one newspaper as "shatteringly powerful". It opened in 2016, returned last year and in March heads to the Park Avenue Armory in New York.
Despite meeting Lan just three days before his departure, it is hard to pin down how he views the end of his era at the theatre. On the surface, little seems different as the Young Vic's Cut Bar bustles with life around us. The softly spoken artistic director will not be drawn on the feelings that surround his departure: "I'm just not going there."
Anyway, Lan is not quite out of the door yet. There are still three shows from his final season to work on, "so I will be knocking around the building for a bit". Then a slight nod towards introspection: "I will be here in a freelance capacity. The difference between being part of a team and not being part of a team is a big deal. I'm going to have to get used to that."
His last three productions are Jon Fosse's Winter, Broadway musical Fun Home, which arrives in London in June, and the rather aptly named The Inheritance, directed by Stephen Daldry. "Pure chance," Lan smiles.
Read our interview with Winter director John R Wilkinson
He is leaving the venue at a time of sustained critical and commercial success – it was this that prompted him to announce his departure in June. "As far as I can be confident about anything, leaving now is the right thing to do," he says.
But he also leaves at a tumultuous time for theatre, and the world in general. Is it not a good time to be exploring and challenging these things on his stage?
"I am not stopping working in the theatre," he replies.
Promoting international work
Lan has long been almost a lone voice in championing creatives from abroad. During the 1970s, there was a lot of good work in Britain, he says, but adds that much of it was too conservative. "It was the memory of Yerma that stuck with me. Then, in the 1970s, the National brought radical shows from France. It was that work that was really important to me."
Whereas dance, opera, music and fine art are "seriously international" in the UK, he bemoans the insular attitudes of its theatre. "The National Gallery isn't just full of English painters. Theatre here has always said, 'We're the best in the world, we don't need anyone else.' It's not a criticism, there are great directors here, but my own tastes are different."
This, inevitably, leads to the subject of Brexit, and Lan – in his understated, insistent way – is animated in his opposition. "We have to resist it in whatever way we can, even if it does really happen," he says. "It seems a total disaster to me and every day brings another reason for thinking that.
"When I grew up in the crypto-fascist, deeply racist society in South Africa, the way we used to think about it was: you have to live in the way you hope people will live in the future, in the way you hope the world will be. We have to do that now."
Theatre is going through its own upheaval, as the industry responds to the reports of sexual harassment and bullying that have emerged in recent months. It touched the Young Vic when complaints of misconduct emerged against Ramin Gray, who directed The Suppliant Women there in November. Gray is currently subject to an investigation by the company he heads, Actors Touring Company.
"It was a big deal," Lan says, adding: "The febrile atmosphere in the industry is good. A crisis is good, it is a crossroads. Sometimes I fear the rage is not always directed in the most creative way, but in revolutionary moments it never is. It doesn't mean the revolution shouldn't take place."
He continues: "This is probably the most important social upheaval to happen in my lifetime, or at least one of the two. The other is resistance to racism and the civil rights movement."
Continues…
---
Top shows at the young vic under David Lan
Australian director Simon Stone's update of the play by Federico Garcia Lorca featured a mighty performance from Billie Piper for which she deservedly won Oliver and Critics' Circle awards. It begins an Off-Broadway run next month.
Yerma review at the Young Vic – 'a mighty performance from Billie Piper'
Ivo van Hove's radical production of Arthur Miller's play, starring a magnetic Mark Strong, transferred to the West End and Broadway. It won a slew of awards along the way and helped to make Van Hove one of the most in-demand directors around.
Joe Hill-Gibbins' production of Middleton and Rowley's murky, mucky tragedy was one of the most striking things to be staged in the Maria studio, though it lost some of its power when it transferred to the main stage. Hill-Gibbins, who had previously directed a cracking Young Vic revival of Martin McDonagh's The Beauty Queen of Leenane, would later fill the building with sex dolls in Measure for Measure.
This was something of a coup for the Young Vic: the UK premiere of Kander and Ebb's musical about the wrongful accusation of nine young black men, a show previously seen on Broadway. Following a sold-out run, it transferred to the Garrick Theatre in the West End.
Ian Rickson's production of Hamlet, starring Michael Sheen, repurposed many of theatre's backstage spaces to recreate the look of a 1970s psychiatric hospital. To say the results divided the critics would an understatement, but it remains one of the most distinctive, inventive, and occasionally dizzyingly silly, productions of the oft-staged play in years.
Sound and Fury's Mark Espiner and Dan Jones along with playwright Bryony Lavery evoked the claustrophobic and intense world of life on board a submarine, transforming the Maria studio into the interior of a sub to create an immersive, enthralling production with moments of spectacular eeriness.
The Brothers Size (2007)
Bijan Sheibani's joyous production of Tarell Alvin McCraney's play of brotherly love was a hit when it was originally staged, coming back for a second run in 2008. It made a triumphant return to the main house earlier this year with a cast including Sope Dirisu.
A Raisin in the Sun (2001)
David Lan's own production of Lorraine Hansberry's landmark play was one of the Young Vic's biggest successes before its redevelopment. A 2005 touring revival of the production, part of the theatre's Walkabout programme while its home was being rebuilt, featured Noma Dumezweni among the cast.
Natasha Tripney, reviews editor
---
From South Africa to London
Lan's interest in theatre stretches back to his childhood, growing up in Cape Town. He remembers his father giving him a box of conjuring tricks. Glancing out of the rain-flecked windows on to the Cut – the street that connects the Young and Old Vics – he says in a slight reverie: "I don't know, I suspect he had seen something in me."
Lan threw himself into magic, performing at children's parties by the age of 14, and appearing on stage in Aladdin as the sidekick of evil magician Abanazar, doing the tricks the older actor couldn't.
At the same time, he became fascinated by puppets, and worked with a professional touring marionette company. "I was working with grown-ups, right at the centre. We did The Little Mermaid in one show, and I operated the mermaid."
His parents were not "super keen" on him pursuing a career in theatre – initially he wanted to be an actor. "But they weren't obstructive. They would take me to the theatre a lot. Art was important to them."
At the University of Cape Town, Lan studied drama and there he became involved in student politics "such as they were" with the groups that opposed apartheid and the authoritarian state. At the time, he says, theatre in South Africa was radical and oppositional. "The point was to express the deep personal political things you couldn't say in other contexts."
The now defunct magazine Plays and Players gave him a monthly window on to theatre in the UK, and he set his heart on heading to the capital.
"It seemed the centre of the theatre world. I wanted to work in theatre and in those days it seemed obvious to go to London. Maybe it was just my ignorance."
Arriving in London in 1972, he found another incentive to stay when he met Nicholas Wright, a fellow South African who was running the Theatre Upstairs at London's Royal Court, and is still Lan's partner.
Lan initially concentrated on writing, finding some success with Painting a Wall at Almost Free Theatre and Bird Child at the Theatre Upstairs, both staged in 1974. In the next five years, The Winter Dancers, Red Earth and Sergeant Ola followed.
"Playwriting didn't come easily to me," Lan says, but he became more integrated into the London theatre scene, and at one venue in particular. "Because Nick was at the Court, I knew people there. There weren't so many theatres then, so the Court was even more important than it is today."
He talks of it as a politically engaged and challenging place at that time. Oscar Lewenstein was artistic director and Lan rubbed shoulders with theatre writers and directors including Peter Gill, Lindsay Anderson and Anthony Page. "It was a very exciting place to be. I could hang out and sit in on rehearsals. I got to know Edward Bond there, and he was very supportive."
Lan thought of training as a director but changed tack and studied social anthropology at the London School of Economics. After graduating, he went on to a PhD, which involved two years spent in a hut in the Zambezi Valley. His thesis would be turned into the book Guns and Rain – Guerrillas and Spirit Mediums in Zimbabwe, a classic anthropological text.
"I probably did that because it was mine. I didn't have older, strong-willed people in the theatre indicating that they were doing what they were doing better than I was. This was mine."
Continues…
---
Q&A: David Lan
What was your first non-theatre job? Working in my father's clothes shop.
What was your first theatre job? Playing Abanazar's assistant in Aladdin.
What is your next job? I don't know.
What do you wish someone had told you when you were starting out? Follow your nose.
Who or what is your biggest influence? History.
What's your best advice for auditions?Rehearse.
If you hadn't been a theatremaker what would you have done? Politics.
Do you have any theatrical superstitions or rituals? I give money to buskers.
---
Returning to London, he wrote films for the BBC, and plays put on at the Court, the National and the Almeida, and for two years in the 1990s, he was writer in residence at the Royal Court. It was there he worked with young writers and directors and became "unofficial producer" on many plays.
His early directing work included Pericles at the National Theatre Studio and The Glass Menagerie at the Palace Theatre in Watford. Then, while directing Jude Law in 'Tis Pity She's a Whore at the Young Vic, its artistic director Tim Supple unexpectedly quit.
"It did not occur to me to go for it," he admits. "The stage manager on the production asked if I was. I thought it was a silly question."
But then he thought back to the Court of the 1970s. He says he had thought, with the arrogance of youth, that artistically running the building "could be done better but without any idea of how I could get there". Maybe it was time to find out if he could. He was offered the job in 2000.
"I've never been on a career path," he says. "It's been as surprising to me as anyone else. In many ways it has been an advantage because I've had to make it up as I go along."
Arriving at the Young Vic, Lan found "good and bad things". The most positive was the relationship of the theatre to its community.
Lan hails the work by Sue Emmas, who is still at the theatre as associate artistic director – "a brilliant thinker, who has led the training of the young directors and actors we work with" – and how the theatre integrated producing at a high level. "I was very drawn by the social engagement in this place," he says.
Rebuilding the Young Vic
There was a major problem, though. The building, which had opened in 1970 and was meant to last five years, was, as Daily Telegraph critic Charles Spencer wrote in 2003, "little better than a slum", adding that Lan's theatre was "falling down around his ears".
It needed an overhaul, but resources were stretched. "One of the first things I had to do was to make a case for the auditorium, to stop it being bulldozed. Never mind the rest of the building, which was ad hoc bits and pieces built over the years.
"When I got here, the working conditions were really poor. The council kept trying to close us down. They'd say: 'If you haven't fixed the electricity by the end of the month, you're out.' So we'd get out the gaffer tape."
Remembering those tough early days, he continues: "There hadn't been a lot of thinking about how to deal with those issues. There was a moment where we had to do something or the building was going to fall down. I had no idea about this when I agreed to take over. The Arts Council had written it off. I'm glad I didn't know that."
To make a case for support from funders, Lan knew it had to stage work "people wanted to see". The first step was to take artistic and financial control.
He stopped visiting companies such as the Royal Shakespeare Company staging productions at the Young Vic, saying he wouldn't put on work he personally couldn't take responsibility for. His first season was largely the theatre's own.
"I thought that if I was wrong, that was okay, as I didn't expect to get the job in the first place. It was high stakes but I had to say, 'This place matters', because if it doesn't matter we'd never raise the money to rebuild it. For the first three or four years that was the focus of everything."
He was successful in funding the £12.5 million project. In 2004, the building closed for two years for rebuilding and the company went on the road, co-producing 22 shows during that time with 20 companies across the UK and internationally.
Lan had also developed his working practice based on the principles of "mutual advantage", working with people who wanted to work with him. An early success was Romeo and Juliet with Icelandic company Vesturport. Rufus Norris, now director of the National, was brought in to tidy the "messy" show up for London, which is where he got the nickname – Lan smiles – "the Cleaning Lady".
It was a hit. "After that, I thought, 'I know what I'm doing,' " Lan says. " 'We can use what we've got and put it together with what someone else has and make it good for everybody.' And that became our way of working."
Returning to the reinvigorated space, Lan developed his own approach to being an artistic director, which included scaling back work directing shows and concentrating on producing with a range of talented directors he wanted to work with.
Carrie Cracknell, who has directed several productions at the Young Vic under Lan, says: "Part of the reason David is so influential is because he hasn't directed his own shows. All his energy, vision and passion goes into collaborations. He's directing the building in a genuine sense. There's a strong level of authorship in his producing."
The only unifying theme of the productions staged during his 18 years at the Young Vic is they had to interest him. They may not have all been his ideas but, he says: "I've only produced what I have wanted to see. If I didn't we wouldn't do it, I wouldn't know how to produce it. I'm not laissez-faire on anything."
He is fascinated by the alchemical process that occurs between a director and a play, and he spots talent like a football scout, attending numerous productions a month. He then seeks to empower those he works with to create something special.
"I work the way I work," he says. "Talent is a mystery. Every human has potential to do things. Kids can do anything and then the world closes them down. Part of the point of a place like this is to open people back up."
Forging collaborations
The most successful work has been when he has paired a director with a play they would not have chosen themselves. That was why he suggested Joe Wright direct A Season in the Congo, a play his collaborator had never heard of. "It was a complicated, difficult, interesting play. It was amazing. That is a big part of my job." Lan adds: "I've tried to create the atmosphere for people's potential to be realised."
Then there was the pairing of Ivo van Hove with Arthur Miller for A View from the Bridge, which raised eyebrows. That was until the production was hailed a, winning scores of awards and West End and Broadway transfers.
David Lan: 'I thought A View From the Bridge was too adventurous for audiences'
Van Hove tells The Stage: "David is one of the best producers I have ever worked with. And, more importantly, David is a very nice man with a strong will. He is the perfect combination of artistic knowledge, real depth, loyalty and a deep awareness of what an artist really wants or needs to make the best work possible."
The Belgian is not the only director to heap praise upon Lan. Rupert Goold, Robert Icke and Cracknell all hailed his influence when he announced his departure. "He has had more influence on British theatre than almost anyone for my generation," Cracknell says.
She continues: "David builds deep bonds with his artists. He is an exceptional collaborator and offers complete commitment to the project. He also asks the toughest questions of you and your work."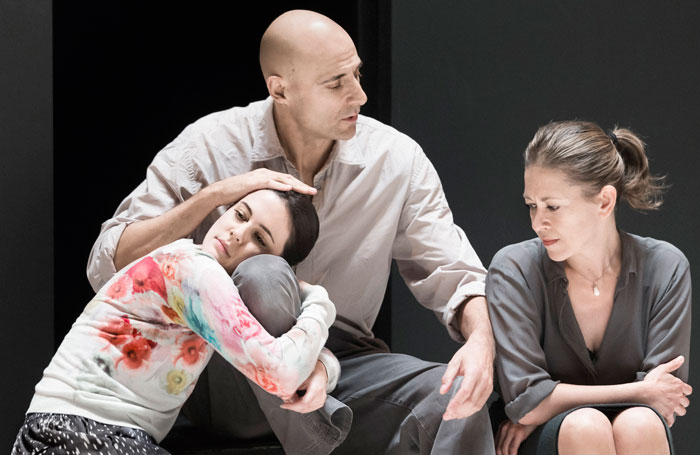 He spotted Cracknell's production of Hedda Gabler at the Gate, called Hedda, and they worked on two plays at the Young Vic, the second, A Doll's House, helping establish her reputation.
"David is good at seeing where your strengths lie and increasing the scale and scope of your work," Cracknell says, adding he pushed her to a new level. "I'm glad she said that," Lan says.
It is one of the creative partnerships he's most proud of and also names work with Peter Brook, Richard Jones – "it is complicated and very rewarding" – Wright, who recently directed Life of Galileo at the venue, and Natalie Abrahami.
"The people I've worked with, in simple terms, are ones I like," he says. "It's a friendship. If you're not my friend I can't work with you. Occasionally I've misjudged it and then it's very difficult."
When asked if he's easy to work with, he laughs.
"Incredibly," he jokes, before adding: "I don't know. I want what I want. Is that tough? I don't know."
Many of Lan's collaborators say he is very "present" during the creation of a new production. Lan agrees, saying part of the job was "being around" to ensure the critical moment for input is not missed. "In most shows, if not every show, there is a critical moment. It's saying exactly the right thing at exactly the right time. You don't know when that moment will be. The only way you can give that is to be around."
Soon, he won't be around the Young Vic. "I got to the point of thinking, this place needs a new idea now". Three days after we meet, Kwame Kwei-Armah takes over and Lan believes the venue is in good hands. "I know him to be a brilliant leader, he's a great person for promoting what he believes in. He has huge integrity. He will be very good for this place," he says.
Exclusive: Kwame Kwei-Armah to be appointed artistic director of Young Vic
Lan offers no advice, but says: "Judging how much continuity you want and how much you don't is a fine art. You don't want too much continuity, you want something surprising. Surprise is a big deal. It's not just a sales gimmick. It's alive and wakes you up."
The question of whether Lan has any surprises of his own up next is met phlegmatically, but it's hard to imagine he will be putting his feet up.
His work on the Performing Arts Center in New York has also come to an end, though he remains an associate. "The job was getting the project to the point it could be built. They've ordered the steel, so it looks like it will be built now. Once you've ordered the steel, there's no way back. They're about to appoint an artistic director."
He continues: "There were a couple of quite big jobs I was sounded out for in a reasonably aggressive way, which I thought about and did a bit of work on. I just thought I don't want to do another… They were like this sort of thing, but different."
Further probing brings the shutters down.
Before he leaves to sit in on rehearsals for The Inheritance with Daldry – alongside whom he had pitched for the National Theatre top job in 2013, losing out to Norris – we return to where it all started, Yerma.
"That play stayed with me and I wanted to produce it," he says. "I'd seen a couple of productions over the years and thought, 'That's not it.' I'd been looking for the director I thought would measure up to it."
He found that director in Australian Simon Stone and the production enthralled audiences and critics. Most of all, for Lan, it was worth the wait. "I'll never forget that production," he adds. "It was another of those amazing surprises."
---
CV: David Lan
Born: 1952, Cape Town
Training: University of Cape Town Drama School, London School of Economics
Landmark productions: A Raisin in the Sun (2001), I Am the Wind
(2011), A View from the Bridge (2014), Measure for Measure (2015), A Man of Good Hope (2016), Yerma (2016), The Jungle (2017)
Awards: Oliviers include the award for outstanding achievement in an affiliate theatre (2004), Critics' Circle special award (2018), Young Vic productions have also won multiple Evening Standard theatre awards and a Tony award; the venue was named London theatre of the year at The Stage Awards in 2015
Agent: Judy Daish
---
Winter runs at the Young Vic until February 24; The Inheritance runs from March 2 to May 19; Fun Home runs from June 18 to September 1. Details: youngvic.org