When Lin-Manuel Miranda debuted a song from Hamilton, at the Obama White House, Alex Lacamoire was there with him. The award-winning music director tells Fergus Morgan about the making of a musical phenomenon, working on Dear Evan Hansen, which transferred to London last week, and his next project: a dance show set to Sting's music
---
In May 2009, a few months after Barack Obama took office as the 44th president of the US, he and first lady Michelle Obama hosted an evening of poetry, music and the spoken word. Among those performing at the first ever White House Poetry Jam was Lin-Manuel Miranda. The number Miranda sang was an early version of Alexander Hamilton, the opening number of Hamilton and the bedrock upon which the rest of the mega-hit musical was built. Accompanying him on the piano that night – the first time anything from Hamilton was performed publicly – was Alex Lacamoire.
"Oh, it was wonderful," Lacamoire says, speaking ahead of another US musical phenomenon he worked on – Dear Evan Hansen – opening in London. "It was early on in the Obama administration and hopes were high. I think it was Michelle Obama's first big event, and she wanted spoken word and slam poetry and jazz, so it was a really cool thing to be a part of."
He continues: "Lin was asked to sing something from In the Heights and he proposed this new song he'd written instead that he thought would be perfect. It was nerve-wracking but wonderful at the same time, and one of our proudest moments. It was so cool."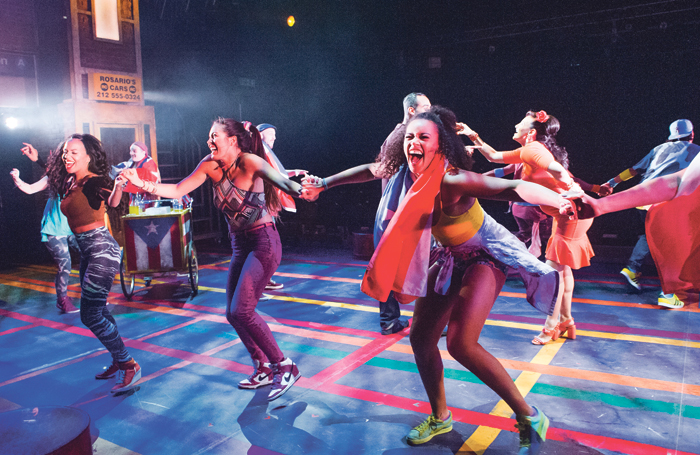 In Hamilton folklore, that performance, and the standing ovation from the Obamas that it earned, is the spark that set off the sensation. Lacamoire, involved from the very beginning, would go on to orchestrate, arrange, and direct the show's music, and produce its multi-platinum cast album, earning himself a Tony – his second of three – and a Grammy – his second of four – for doing so.
"At the beginning, I didn't know if Lin was being serious, or if he was being tongue in cheek about the whole thing, because it just seemed so absurd," he says. "You're going to do American history in the hip-hop vernacular? It wasn't until a few songs later that I realised how serious he was. I definitely could not have told you back then that it was going to become the thing that it is now. But it all made sense in Lin's head."
Music man
Lacamoire's life was always going to be musical. Born in Los Angeles in 1975, he started playing the piano aged four, spent his teenage years in Miami, then attended Boston's prestigious Berklee College of Music. A slight hearing impairment – Lacamoire wears a hearing aid, something he admits he is self-conscious about – didn't get in his way.
"I've always been curious about how music is put together," he says. "When I was younger, it wasn't enough for me to just listen to a Led Zeppelin song and know how to play the guitar part. I needed to know how to play the bass part, and the drum part, and what the back-up harmonies were. I was obsessed with learning how they did it, and I wanted to be able to do it myself."
He continues: "There's a part of me, when I'm listening to a song, that just can't help listen to all those individual elements. I could listen to a song on the radio, and even though I'm not listening to the drums, you could turn it off and I could tell you exactly what the drums were doing. It's something inside me. It's just the way I hear music. I can't switch it off." Lacamoire moved to New York City in 1998, after graduating from Berklee, and immediately landed a job with The Lion King, playing the piano in rehearsals and auditions. He freelanced for a while as a musician, playing in auditions for other Broadway shows – Elton John and Tim Rice's Aida, Man Of La Mancha, Rent – meeting composers and music directors, and making a name for himself.
Gradually, he put a career together, project by project, as an arranger, an orchestrator and a pianist. His first show as a musical director was the off-Broadway run of cult rock musical Bat Boy in 2001. Not long after, he worked on Wicked at Broadway's Gershwin Theatre, first as an associate conductor, before taking over as the show's musical director in 2005.
It was "around that time", says Lacamoire, that he was introduced to Miranda, and became involved in his first hit musical In the Heights. In 2013, for Jennifer Ashley Tepper's anecdotal collection The Untold Stories Of Broadway, Miranda actually admitted that much of In the Heights was written backstage at the Gershwin with Lacamoire, and that he actually asked Lacamoire to get him tickets to see Wicked for his second date with his now-wife Vanessa Nadal.
"I remember that it was just so easy to talk to him," says Lacamoire of meeting Miranda. "It was easy to hang out with him. I just loved that we were two Latin dudes trying to make it in the theatre world, and I just loved that he was writing music that I wasn't encountering often in musical theatre. It was unlike anything I had heard before, and he was just someone I wanted to be around, because he's so darn smart and so darn funny."
Orchestrator, arranger, music director, music supervisor – these are all slightly different roles with slightly different focuses, but Lacamoire likes to take on all of them at once, to shape music to his own "very specific vision".
And, in Miranda, he found someone who was willing to let him. Their relationship has always been collaborative and creative. "Lin admits that he's not a strong piano player," says Lacamoire. "And when we were doing In the Heights, he didn't know how to use his computer to make tracks either. He would just sit at the piano and toil away and try to come up with the chords and the basic structure, but not quite manage to play it all the way through, let alone sing it all the way through. He couldn't wait for me to sit down, and he would say that it sounded so much better when I played it," he continues. "He definitely felt like I was someone who could help his music and lift it up. So I always felt a kinship with him, and it's really wonderful to be of service like that because I adore him and his music."
In the Heights opened on Broadway in 2008 and scooped four Tony Awards, with Lacamoire picking up his first Tony for best orchestrations, plus his first Grammy – the show's cast recording, that he co-produced, won best musical theatre album. The best, though, for Lacamoire and for Miranda, was yet to come, exploding out of a one-off performance at the White House.
Continues…
---
Q&A

Alex Lacamoire
What was your first non-theatre job?
I've always worked in music. Even when I was a councillor at summer camp, I was the councillor that taught music.
What was your first professional theatre job?
In junior high school, I played keyboard bass for a production of Bye Bye Birdie. I was very young, probably 11.
What do you wish someone had told you when you were starting out?
That's a tough one. I've never doubted music was my path, but it would have been nice for someone to say: "Hey, you're on the right track, wait to see the people you're going to meet."
What is your next job?
Message in a Bottle at Sadler's Wells.
Who or what was your biggest influence?
Emotionally, my mother. She's a saint. Extremely patient, extremely supportive, extremely loving. She'd drive me to gigs when I didn't have a licence. She'd let me play music in a garage with my buddies all day. She taught me to be a good person.
If you hadn't been in musical theatre, what would you have done?
A drummer.
Do you have any theatrical superstitions or rituals?
I guess you're not supposed to say the name of that play in theatre, so I don't do that. But no real superstitions or rituals. I'm kind of boring when it comes to that.
---
Hamilton harmony
It's difficult to exaggerate Hamilton's significance – 11 Tony awards, seven Oliviers and a Pulitzer Prize for Drama only tell part of the story. So too do the figures – it's Broadway production alone, which opened in 2015, has grossed over half a billion dollars. Combine this with its enormous cultural impact, and it's entirely arguable that Hamilton is the most significant musical of the century. And Lacamoire was right at the heart of it.
"It's a bunch of things," says Lacamoire of Hamilton's extraordinary success. "A lot of elements all came together in the right way. Everyone on the creative team was working at the top of their game, all serving each other. The choreography serves the music, which serves the story, which serves the costume and everything just flows."
Miranda was much more versed in using his computer to create tracks by then, he says. "He would make demos and I would orchestrate them and fine-tune vocal harmonies and suggest breaks in the music and suggest endings, or transitions or licks. Then I would figure out how many musicians it would need and then I'd be involved in the teaching of it. It will go down in my history book as one of the most fertile, creative, joyous times I've had."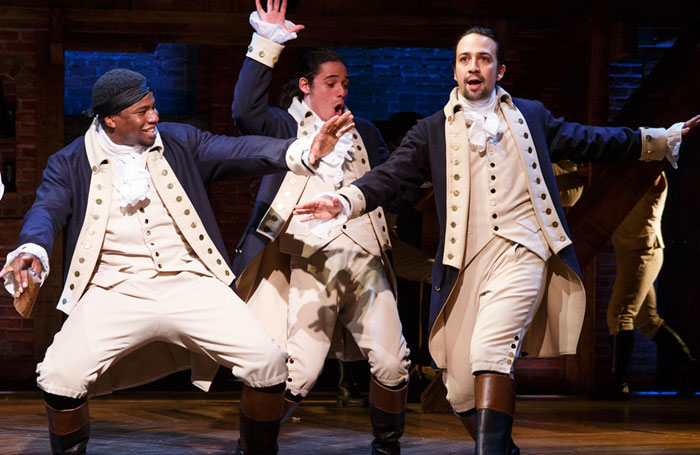 Hamilton didn't just smash records on stage, though. The cast recording album, released in 2015, went multi-platinum, selling over a million copies, peaking at number three on the US charts, and becoming the first ever cast recording to top the US rap charts. Lacamoire produced it, together with legendary hip-hop band The Roots. It was, he says, like "trying to catch lightning in a bottle".
"The goal with producing cast recordings is to create a product that is as perfect as it can be, because it's going to exist in that way forever. When it's on stage, it exists at one moment in time, but then has to be repeated night after night after night, so it's all about trying to make it replicable. With records, you have the opportunity to get it perfect that one time."
And does he have a favourite song from the musical? "I always say my favourite is Wait For It," he says. "I just love that song so much. I love the production of the album. I love the performance of it on stage. There's something about it – the way it moves, the rhythm of it, the percussiveness of it, the relentlessness of it – that I absolutely adore."
Collaborative magic
Lacamoire was awarded his second Tony and his second Grammy for Hamilton and its cast recording, and he was back to pick up two more prizes not long after, as orchestrator and musical supervisor on Benj Pasek and Justin Paul's Dear Evan Hansen. The show, which transferred to the West End last week, opened on Broadway barely a year after Hamilton, and scooped up almost as many awards.
"Justin came over to my apartment one day and did a very old school show-and-tell, where he sat at the piano in my apartment and played me the songs from the musical," Lacamoire says. "I was just hooked. I just loved the songs right away. Straight away, just by the piano and his voice, I could tell what the songs sounded like. I could hear the big picture. I could hear the whole band, and I really enjoyed shepherding that music to the stage."
As he was with In the Heights and Hamilton, Lacamoire's musical mind was integral to the development of Dear Evan Hansen's sound. The rest of the creative team certainly think so. Ben Platt, who originated the role of Evan, said in a You Tube video released on the show's official channel that Lacamoire was "a genius", adding: "All I have to do is sit back in his glorious orchestration and let it bring things out of me in a way that I don't think I ever have in a musical."
After Dear Evan Hansen, Lacamoire then switched to screen work, but the success kept coming. He was executive music producer on the 2017 musical film The Greatest Showman, and produced the movie's chart-topping, Grammy-winning album, then music director for the hit FX miniseries Fosse/Verdon, where his reimagining of classic musical numbers earned him an Emmy. That job came with a lot of responsibility.
"I love Bob Fosse's choreography, and I love the shows that he's been a part of," he says. "And the songs in them are some of the best in the Broadway canon. I wanted them to have the same authenticity as the originals. I wanted them to sound 'right'. And I really wanted to honour the work, and the people that made it, and the people who enjoy it."
Next up: a change of tone entirely. The creative spark behind rap musical sensations In the Heights and Hamilton, the musical maestro behind Dear Evan Hansen and Fosse/Verdon, is diving into a completely different genre – post-punk British rock.
Lacamoire's next project is Message in a Bottle, a new dance show from choreographer Kate Prince, based around the songs of Sting and The Police. It's co-produced by Sadler's Wells and Universal Music, and Lacamoire is the show's musical supervisor. He's arranging hits like Every Breath You Take and Fields of Gold afresh for the stage, and loving every minute of it.
"I've been listening to The Police since I was a kid," he says. "I grew up in the MTV era, so the whole Synchronicity record was very present in my upbringing. I don't think I'm allowed to give you the setlist but it's all the songs you want to hear. If there's a Sting song that you want to see on stage, it's there."
Change of tone
Roxanne fans can rest assured, though – Sting's songs are in safe hands. Lacamoire lives and breathes music. Just watch the online videos of him gleefully breaking down Hamilton numbers for delighted audiences, then reconstructing them before their eyes. Pulling songs apart and putting them back together again is what he does best – better, perhaps, than anyone else.
But, despite the extraordinary list of honours for stage and screen, and the fact that he is probably the pre-eminent musician working on Broadway today, he remains remarkably humble about his work.
"I am nothing without the composers," he says. "I am nothing without Lin, or without Justin and Benj. I get to work with people who just write really, really, really good songs, and that makes my job easy. I hear stuff in their songs that sparks joy in me, and lights me up. I have a clear sense of what it needs to sound like, and a clear sense of how to add my flourish to it.
"There's a piece of orchestrating and music directing that's very OCD. And I have to admit that I like that. I like that I get to be the one who decides what the music is going to look like. I like the structure of it. I like the design element to it. That brings me real joy."
He is also fairly easy-going about where his career is headed next. Of course, there are things he wants to tick off his bucket list – "I'd love to do a gig at Carnegie Hall, and I'd love to conduct a symphony or something one day," he says – but he's far more concerned about who he is working with than what he is working on. "I kind of just go where the universe takes me. People show up in my life that I sense creative chemistry with, and that's what I look for – meeting people that are on a particular level, on a certain plain, people you want to bring your best for. Those people are able to approach a song, or a tune, or a story in ways that are just extremely exciting and electric. And I love that."
He adds: "When you get to work with people like that, you feel really lucky. Music is so collaborative, or the kind of stuff that I do is. I don't play by myself. I need to work with other people in order to do my job. Those relationships are what keeps me working."
---
CV Alex Lacamoire
Born: Los Angeles, 1975
Training: BM, Berklee College, Boston
Landmark productions:
Theatre:
• Bat Boy: The Musical, Union Square Theatre, New York, (2001)
• Wicked, Gershwin Theatre, New York (2005)
• High Fidelity, Imperial Theatre, New York (2006)
• In the Heights, Richard Rodgers Theatre, New York (2008)
• Hamilton, Richard Rodgers Theatre (2015)
• Dear Evan Hansen, Music Box Theatre, New York (2016)
Film:
• The Greatest Showman (2017)
TV:
• Fosse/Verdon (2019)
Awards:
• Tony Award For Best Orchestrations (2008, 2016, 2017)
• Olivier Award for Outstanding Achievement in Music (2018)
• Grammy Award for Best Musical Theatre Album (2009, 2016, 2018)
• Grammy Award for Best Compilation Soundtrack for Visual Media (2019)
• Emmy Award for Outstanding Music Direction (2019)
---
Dear Evan Hansen is running at the Noel Coward Theatre, London, and booking until May 2, 2020. Message In A Bottle will run at the Peacock Theatre, London, from February 6 to March 21, 2020.
Dear Evan Hansen review at Noel Coward Theatre, London – 'powerful, moving and superbly performed'