Lea Salonga has won Olivier and Tony Awards, worked with Disney and is a judge on The Voice. The globally adored performer speaks to Matthew Hemley about making her West End debut at 18 in Miss Saigon and its lasting physical effects, the portrayal of Asian women on stage and why she would love to work in London again
---
When Lea Salonga made her West End musical theatre debut aged 18 in the original 1989 London production of Miss Saigon, she befriended an usher at the Theatre Royal Drury Lane.
Together, they shared their hopes for the future – hers to sustain a successful career in musical theatre, his to become a theatre producer.
That was 30 years ago. Today, both of them have achieved their goals. The usher was Kenny Wax – and just as he has gone on to carve a successful West End producing career, Salonga has made a name for herself as one of musical theatre's most respected stars – a winner of both Olivier and Tony awards.
But she recalls the time when both of their futures were still being formed. "I remember Kenny in his blue coat, ushering people to his seats," she says. "I also remember him telling me and my mum that he wanted to be just like Cameron Mackintosh and to produce shows in the West End."
She adds: "He has done it and I am so thrilled he was able to make it happen for himself."
Salonga hasn't done too badly herself. Since her debut on the London stage as a teenager, she has also gone on to work with Disney, providing the singing voices for cherished characters such as Jasmine in Aladdin and the title character in Mulan.
But it's Miss Saigon she will forever be associated with, given that she originated the role of Kim in the first West End production and later took it to Broadway.
Taking a different path
Salonga was studying in the Philippines, where was born and raised, when Mackintosh brought auditions for the original production to Manila.
She auditioned and found the plans she had laid for herself rapidly changed. Salonga was a medical student in Manila, studying biology, with aspirations to become a doctor. But the auditions set her on a path to a career her parents had initially warned her against.
"My parents instilled in me the thought that a career in showbusiness was fickle and was not something I could depend on for a steady income as a career," she says. "That was the reality of things and I agreed with them. I picked medicine as it was something I was sincerely interested in. But then the auditions came for Miss Saigon and I was called back. And with every callback I was like: 'This looks like something could happen here.'"
Something did happen. When she was cast in the role of Kim, she found herself in a show that – although no one knew it at the time – was to capture the hearts of musical theatre fans globally and provide another mega-hit for Mackintosh and the writing team behind Les Misérables.
Continues…
---
Q&A Lea Salonga
What was your first job?
Since I was so young, the first job I had was as an actor. I don't think I've ever had a non-acting job. I have never flipped burgers or washed dishes for pay.
What's your first professional theatre job?
Princess Ying Yaowalak in The King and I, March 1978. I was seven years old.
What do you wish someone had told you when you were starting out?
How much I'd require my sense of humour to see me through.
Who or what was your biggest influence?
I don't know… I've gleaned from so many different artists that it's difficult to single one person out. Maybe a lot of my style was from listening to 1970s and 1980s pop singers: Elaine Paige, Judy Kuhn, Barbra Streisand. Clean vocals, but with a lot of heart behind them.
If you hadn't been an actor, what would you have been?
A therapist. This business does hurt the soul and I'd like to be able to see someone through it and help them get better.
Do you have any theatrical superstitions or rituals?
I used to not bring any sort of nuts backstage. Now, whatever's clever. I don't believe in a lot of that stuff anymore.
---
Miss Saigon gave Salonga her big break, but it was not without its challenges. The move to London was a big leap for an 18-year-old from the Philippines, so her mum came with her. "She absorbed the demands for me," Salonga says. "And there were a lot of demands on me for that show."
She adds: "I would rather think of all the good stuff that came out of it, but it was definitely a lot of pressure to put on an 18-year-old. It was crazy, nuts."
One of the biggest challenges was the impact such a demanding role had on her untrained voice. Prior to leaving the Philippines, Salonga had only had a few singing lessons "here and there", but not enough. The intensity of the part soon took its toll – so much so that she had to take time out of the musical on doctor's orders.
"The doctor said I needed to heal and rest," she says. "So I was silent for a week and a half to two weeks."
After that, she sought the help of renowned vocal coach Mary Hammond, who the musical theatre star credits with saving her voice. "She took it apart and put it back together again. She changed the whole technique of how I sang. Over a year, I went to her once a week and she fixed my voice. I have not had any major troubles since seeing her because of how she taught me then."
She adds: "I am always grateful to that woman for everything she did. That voice people are familiar with after Miss Saigon – including Aladdin and Mulan – is thanks to her."
Salonga says she would encourage any aspiring performer to learn how to sing properly – adding that the "physical demands on any human who does this [musical theatre] are
just crazy".
Injury and controversy
And Salonga doesn't just mean vocally Drury Lane's raked stage was a cause of distress for her and many other performers.
"I don't know how many times I sprained my ankle doing that show, as running in high heels on that thing was not fun. It was hateful," she says, adding: "People still have hip problems from that show. Everyone who has done it, on that thing [the raked stage], will still feel some sort of residual discomfort."
The female cast wore high heels because the show opens with sex workers vying for trade from GIs. When the show opened on Broadway in 1991, it was met with protests from people who objected to the way Asian women were being portrayed on stage. Salonga is sympathetic to their cause. "I did understand and I still understand – I get it," she says, but goes on to point out that the production's director Nicholas Hytner was sympathetic in his staging, particularly with the opening scenes.
'It was definitely a lot of pressure to put on an 18-year-old. It was crazy, nuts'
"There was something he did, and I don't know if anyone thinks about this, but when it opens you see the girls scantily clad, then all the women face up stage, which forces the audience to look at the soldiers at this point," she reveals. "They are drunk and abusive, and it makes them a mirror of the audience."
She adds: "The audience had to look at how ugly things were even if it meant looking at themselves and seeing how ugly they were."
Salonga goes on to stress that she never once felt unsafe preforming those scenes. "The majority of the men [in the cast] were gay, so the girls felt they would not put a hand on our asses and get a rise out of it," she says.
While that wasn't an issue, Salonga does recall the pressure that female cast members – often dressed in bikinis on stage – felt to maintain a certain weight for their roles. "That was not a fun part of the job," she says. "But one good thing came out of it – I had baby fat on me and it had been difficult to shed. It was difficult having to maintain a certain weight – and then you add on the pressure and stress of being in the show."
She says that going back to the Broadway show in 1999 was easier, because her diet by then meant her weight dropped more naturally.
However, she was initially uneasy reprising the role, having felt "burned out" by Miss Saigon the first time around. "When I did go back I thought: 'This will be awful'," she says. "But, in the end, I never had more fun playing that role than when I went back for those five months."
The show was revived in the West End for its 25th anniversary, in 2014, starring Eva Noblezada. Salonga came back to appear in a special gala performance.
On the whole, there was much more authenticity in the casting for that production, she says. For starters, the role of the engineer was played by Jon Jon Briones, also from the Philippines, while it had originally been played by Jonathan Pryce.
Salonga says theatre is still in a place of trying to understand what is acceptable when it comes to casting and which productions are acceptable to stage.
"The Mikado is one of those shows that no one should do because of how insensitive it is in its portrayal of Asian people," she says, adding: "I wonder what would happen if you did it with an all-Asian cast. What would the perspective be? I am sure people have tried."
Back to the stage
Given her connection with Miss Saigon, there will undoubtedly be a few numbers from the musical that appear in her latest stage outing – a solo UK tour in which Salonga will perform hits associated with her career, including Les Misérables, in which she was the first Asian woman to play the role of Éponine. She later returned to star as Fantine.
The tour was originally scheduled to run earlier this year, but was cancelled after Salonga suffered an injury. "The tour was supposed to be in February but I broke my leg while I was skiing in Japan," she says. "But the new tour means it now comes almost 30 years exactly since I headed to London to be in Miss Saigon. The timing is uncanny and really cool."
The tour will give her the chance to celebrate some of the high points of a career that she didn't imagine she would ever have. Prior to Miss Saigon auditioning in Manila, and using so many actors from the Philippines, being in musicals was not considered a stable career – certainly not in the Philippines.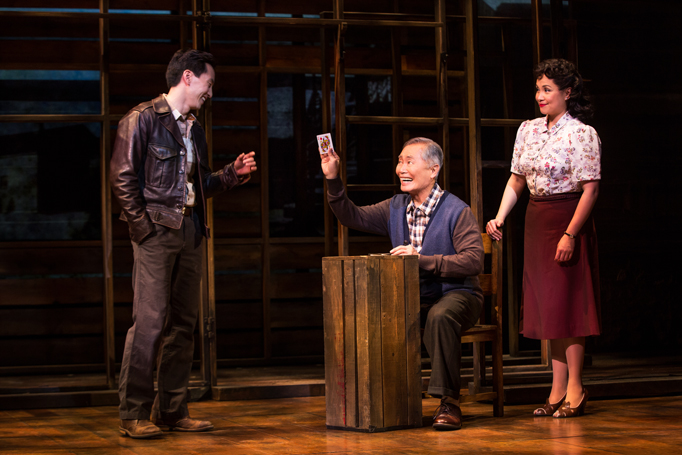 "But it is now and we have Miss Saigon to credit for that," Salonga says. "A bunch of us went out to be in the show and we had no idea if it would be a hit."
She adds: "When we left, I don't think being in theatre was a viable career. You needed to make sure you had a day job or, if you were a kid, you had to make sure you had parents who worked to sustain what was really just a glorified hobby at the time."
Now, more and more theatre is being made there, and, she says, "young people are able to make some sort of living out of it.
"It's still not going to earn you all the money in the world, but it will earn you enough so you can fulfil your dream, your passion and make a living out of it," she says. "But you have to be very talented for that to happen."
For her own part, prior to Miss Saigon, Salonga had appeared in shows in her home country, making her debut at the age of seven in The King and I, with Repertory Philippines, the country's only theatre company that produces Western shows. At the time, people working for it would come in and rehearse around their day jobs, she remembers. Or in Salonga's case, her school work – her mother made sure she didn't forget her schooling.
"She knew how much I loved rehearsals and that environment – being on stage," she says. "One condition was to finish my homework first before a rehearsal or to bring it with me to rehearsals," she says. "I think that was just a motivation for me to keep my 'academics' up."
Although she was minded to focus on her studies rather than pin all her hopes on a career in the performing arts, it's a career that has sustained her for the best part of three decades.
Recently, she starred in the 2018 Broadway revival of Once on This Island as the Goddess of Love, Erzulie. She has also been a judge on the Philippines' version of The Voice. But, she says, work offers from London have been few and far between.
"I have waited for the opportunities." she says. "And London is a far easier flight from the Philippines than New York is. I would love to work in London again and my family would love it, but we will have to wait and see what is on the cards."
---
CV Lea Salonga
Born: Manila, 1971
Training: Vocal training with Mary Hammond
Landmark productions:
• Miss Saigon, Theatre Royal, Drury Lane, London (1989) and Broadway Theatre, New York (1991)
• Les Miserables, Imperial Theatre, New York (1993); Palace Theatre, London (1996)
• Aladdin – film (1992)
Awards:
• Olivier for best performance by an actress in a musical (1990); Tony award for lead actress in a musical (1991)
---
Lea Salonga is touring the UK until July 21. Go to leasalonga.com for more information
Christie Prades on playing Gloria Estefan in On Your Feet!: 'She has this way of making you feel equal'