Ivo van Hove returns with The Fountainhead at the Manchester International Festival this month just weeks after his last production All About Eve completed its West End run. The visionary workaholic director discusses his career with Fergus Morgan and describes how he fell in love with Ayn Rand's ode to extreme liberalism
---
There are theatre directors, and then there is Ivo van Hove, the visionary Belgian theatremaker whose boundary-breaking productions have variously stunned and shocked critics and audiences since they first arrived in Britain almost a decade ago.
Van Hove radically re-imagined Shakespeare's Roman plays at the Barbican in 2009, Arthur Miller's A View from the Bridge at the Young Vic in 2014, and Ibsen's Hedda Gabler in 2016. It is Van Hove who directed David Bowie's last work, the musical Lazarus, in 2015. And it is Van Hove who has orchestrated star-studded stagings of the screenplays of classic films, including Obsession with Jude Law and All About Eve with Gillian Anderson.
All About Eve review at Noel Coward Theatre, London – 'a stylish but functional production'
Now 60, the uncompromising director shows no signs of slowing down. Quite the opposite. Over the past 18 months, he has staged three productions in the UK – Network at the National Theatre, which transferred to Broadway, All About Eve in the West End, and The Damned at the Barbican – and he's about to open a fourth. The Fountainhead, an adaptation of Ayn Rand's 1943 novel, is at Manchester International Festival from July 10.
"I like to work," he says. "I'm blessed. I don't go to my job in order to earn some money and have a great time afterwards. I try to have a great time during my job. Work doesn't feel like work. It's a fantastic, happy thing, because in my work I can totally express who I am and what I think about people, about myself, and the world around me. It's like writing my diary."
Fluency of creativity
As well as the shows Van Hove is presenting in the UK, he's already directed a new production of two Euripides plays with Paris' Comédie-Française, and in December he's somewhat unexpectedly opening a musical on Broadway – West Side Story, that he will make in collaboration with the choreographer Anne Teresa De Keersmaeker.
On top of that, he's still got a company to run. Van Hove has been artistic director of Dutch ensemble Toneelgroep Amsterdam, which became Internationaal Theater Amsterdam last year, since 2001. Much of his most famous work was made with the company, and still is. He has already directed one show for it this year (an adaptation of Thomas Mann's Death in Venice), he's got another one coming up (a staging of Jean-Paul Sartre's The Freud Scenario), and several are on tour across the world – in Hong Kong, Seoul and Barcelona.
He talks with the speed and fluency of a man with a million things to do, pausing only occasionally to ensure he uses the right English. The key to keeping on top of so much work in so many different places, he says, is his refined approach to creating that work. "Of course, I work a lot of hours, and I'm involved with a lot of productions," he says.
"But I've developed a system that allows my work to always be at the top of what I'm capable of. I don't do 10am to 6pm rehearsals, for example. I do 11am to 4pm, with few breaks so we don't lose concentration. For producers I haven't worked with before, that's a little bit scary." He continues: "When I work in different theatres, I have to adapt to their systems. The National Theatre has a very different system to the Comédie-Française, for example. But I've developed working methods that I always hope people will respect because I know they give the best possible results at the end of the process."
It's remarkable to reflect that Van Hove's productions have been seen on British stages for only a decade, such is his stature and influence, and so frequently is his work seen here today.
He has been well-known in Europe for much longer, but his first show on these shores was Roman Tragedies, a six-hour amalgamation of Coriolanus, Julius Caesar, and Antony and Cleopatra made with Toneelgroep Amsterdam in 2007, that visited London two years later.
It ran for only three performances at the Barbican, playing to several hundred people each night, but it sparked a fruitful relationship that quickly awakened British audiences to his explosive, experimental ideas.
"Roman Tragedies was a huge success," the director says. "But, of course, it only was for a very small community, because people didn't know my name then, people didn't know my company, and it was six hours of Shakespeare. It was Toni [Racklin, the Barbican's head of theatre] who brought us back and back and back, presenting our productions systematically."
Thanks to Racklin, Toneelgroep Amsterdam appeared at the Barbican again in 2011 with Antonioni Project, and then again in 2013 with Scenes from a Marriage. But it was the following year, that Van Hove went to another level entirely – with his Young Vic version of A View from the Bridge, starring Mark Strong. "A View from the Bridge was a total breakthrough," he says. "That's a fact. It became a very important production in London, and elsewhere. It was an absolute highlight."
Not only was the revival a critical success, earning Van Hove the Olivier award for best director, but it proved that his work was commercially viable as well: after running at the Young Vic, it played for eight weeks in the West End, then a further 18 weeks on Broadway, where it delivered Van Hove the best director Tony award to boot.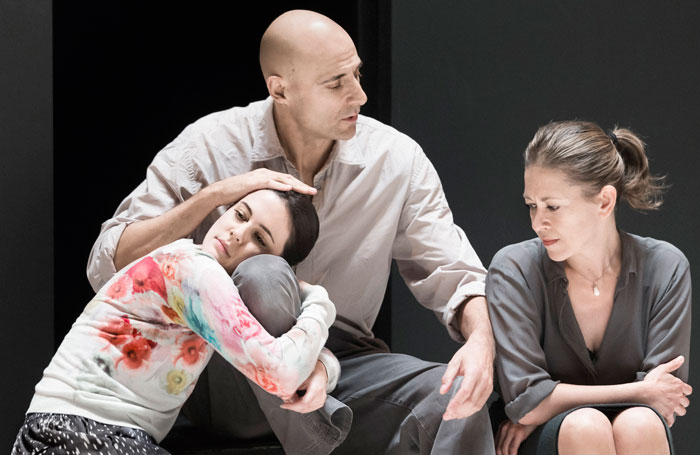 Suddenly, Van Hove shows were no longer esoteric European transfers running for a few days at the Barbican, they were cropping up in commercial theatres too. And famous names were lining up to star in them. These included Michael C Hall in David Bowie's Lazarus in New York and London; Ben Whishaw, Sophie Okonedo and Saoirse Ronan in The Crucible on Broadway; Ruth Wilson in Hedda Gabler at the National and Jude Law in Obsession back at the Barbican. Then, in 2017, Breaking Bad star Bryan Cranston signed up for the lead in Network, and, earlier this year, Gillian Anderson and Lily James starred in All About Eve in the West End.
Van Hove insists it doesn't make a difference to him whether he's working for a heavily subsidised European state theatre, or a commercial producer with their eye on a profit. When asked if he changes his methods or mindset depending on where his production will play, he responds: "I can safely say no."
Nor does he tailor a show to suit a particular audience, a particular country, or a particular city. "I try to make productions that are not specifically intended to be of importance in a certain country," he says. "Even when I make things in Amsterdam, which is my home, I always make them from an international perspective. Sometimes that's successful, sometimes that's not. Of course, I hope that production will be very important in Amsterdam, but I hope it will be universally important. That's always my goal."
Continues…
---
Q&A Ivo van Hove
What was your first non-theatre job?
Working at a very sleazy disco that always closed with Queen's We Will Rock You. It was like a bacchanalian event.
What was your first professional theatre job?
Directing Ziektekiemen (Germs) and Geruchten (Rumours) in Antwerp in 1981.
What do you wish someone had told you when you were starting out?
A famous Belgian actress once said to me: "Ivo, between you and theatre is a very good marriage." A marriage has good times and bad times, and I can live with both. That was all the good advice I needed.
Who or what was your biggest influence?
There's a few of them, and they're people that are not so well known in England. As a director, Patrice Chéreau. I saw all his productions.
What's your next job?
Directing Freud in Amsterdam in September.
If you hadn't been a director, what would you have been?
I really wouldn't know. I would be stuck. I have no hobbies.
Do you have any theatrical superstitions or rituals?
I have no superstitions, because it's stupid to have superstitions.
---
Stoking the fire
Born in 1958 to parents who "were not deeply involved in the arts or things like that", Van Hove grew up in a small town in rural Flanders, North Belgium. It was, he says, a culturally deprived area. "It was a village of farmers and Italian immigrants that worked in the coal mines," he says. "And that was it. There was no theatre. There was no cinema. There was nothing there. To go to the theatre we had to go to Antwerp, which was more than an hour by bus. We went once a year or something."
It wasn't until Van Hove went to boarding school, aged 11, that he discovered theatre. "On Wednesday afternoons there were no lessons, so you had to choose between three things," he says. "There were beautiful sports fields, and you could do basketball, volleyball, athletics, football, whatever you wanted. Or you could go out into town, where there was a girls' boarding school, and you know what happened there.
"And the third option was to join a theatre group that always presented a play at the end of the school season. For reasons I still don't understand, because there really was no reason for me to do it, I joined the theatre."
It was a decision that would change his life, because it instilled a love for the process of creating theatre that continues to drive him today. "I immediately fell in love with being part of such a community," he says. "I discovered not so much how to make theatre, or what it really needs, but that it's so warm to work together, and so intimate to work together on something that you then present to an audience. And you even get applause."
He adds: "I still find that the rehearsal room is, for me, a sacred place. Whatever happens there, no one can use it against you outside of the room. That room is where the mystery of theatre takes place. Whatever happens there is a secret. It's a very open, free space. And I treasure that a lot."
Van Hove's parents would have found him pursuing a career in theatre "unthinkable" though, so at 17 he enrolled in law school. "I always knew that it wasn't going to be my future," he says. "I knew that deeply. But I'm actually very happy that I did it, because in Belgium, studying law provides you with a great general education. I had philosophy, psychology, sociology. I had Roman law and American law. I had German, French and English as languages."
It was when he entered his third year, aged 20, and his course became more specialised, that he finally made up his mind. "I suddenly found myself in a library with only law books," he remembers. "And I thought: 'Well, I was here yesterday, I'll be here tomorrow, and I will be here in 30 years if I don't stop.' And I stopped that day. I went to my parents and said: 'You're going to be very sad, but I'm stopping law and I'm not going to change my mind.' And I've never changed my mind."
Jan Versweyveld, Van Hove's partner in life and work, has been at his side every step of the way, designing almost all of his productions. Van Hove looks back on the first shows they made together in Antwerp in the early 1980s and likes to think that the same passion that pushed him then still pushes him today.
"When I see myself in clips from those days, I recognise myself," he says. "I spoke even faster than I do now, but I still feel the fire in that young man. I hope and I recognise that that's still in me. That not giving up. That not caring about the opinions of other people about your work. Not moving to please an audience, or to please a journalist, or to please your producer, or whoever. That, I think, is what brought us to the place we are now, 40 years later. And I don't feel like we're on the downhill side. On the contrary, actually."
Dividing opinion
An ability to take criticism on the chin is essential for Van Hove, whose work is often divisive. It has been variously denigrated by critics as pretentious, wilfully provocative, and even misogynistic, so frequently do his productions seem to contain scenes of violence against women. For every A View from the Bridge, which was lauded to the stars, there's an Obsession, that was condemned as slow and self-indulgent when it ran at the Barbican two years ago.
His shows have a unique aesthetic. They generally take place on wide, open stages and are experimental and expressionist, drawing heavily on performance art and ritual, and often making liberal use of live video. That last device has perhaps attracted the most critical consternation – some love seeing actors' faces in close-up on huge screens, some loathe it.
I see video just as an instrument, just like the Greeks used masks
"I see video really just as an instrument, just like the Greeks used masks," he says. "At Epidaurus, the Greeks played to 10,000 people, and the masks worked like a trumpet and a big close-up. I use microphones and video in the same way, and I only use them when we really can't make a production without them. I make a lot of productions without video. I do some that are totally video-based. It's just an instrument."
Technology certainly plays a prominent role in Van Hove's production of The Fountainhead, that opens at the Manchester International Festival next week. The show was originally created with Toneelgroep Amsterdam in 2014, but it has taken on fresh relevance in recent times, after it emerged that the novel was one of US president Donald Trump's favourites.
"I didn't know about Ayn Rand at all," says Van Hove of the production's origins. "Never heard of her. Then in 2007 my assistant, who is also a very good friend of mine, gave me The Fountainhead and wrote on the first page: 'You have to read this now.' I read it that summer and immediately fell in love with it. It took me almost eight years to get the rights."
Rand's novel, which follows the uncompromising architect Howard Rourke as he struggles to sustain a career designing buildings in New York City, was somewhat controversial even before Trump's affection for it emerged. Both Rand's philosophy – she believed individualism to be superior to collectivism – and her attitude to women – her depiction of the novel's central female character is often labelled anti-feminist – have been raised as criticisms. "When people got to know that I was going to do it, I got a lot of criticism, even before the production opened," Van Hove says. "Because the book, indeed, is an ode to extreme liberalism. That's what it is. At the end of the day, that's the central theme."
But, he says, there's a lot that's dramatically interesting about the story. It's about architects, firstly, an occupation rarely seen on stage. It has two warring opponents in Rourke and his rival Peter Keating. It has a protagonist in Rourke who is ideologically driven on a personal, a professional and a political level.
"Of course, I don't believe in extreme liberalism, or an egocentric society. Not at all. But this novel is much more than only that. And that's what I tried to bring in with my production."
There's another reason Van Hove is attracted to The Fountainhead: artistically, he identifies strongly with its central character. "As an artist, I want to be Howard Rourke," he says. "I want to make productions, to make art, without compromising. I want to make the most extreme, the most excellent, the best production ever. That's always my goal."
---
CV Ivo van Hove
Born: 1958, Heist-op-den-Berg, Belgium
Training: Royal Institute for Theatre, Cinema and Sound, Brussels
Landmark productions:
• A Streetcar Named Desire, New York Theatre Workshop (1998)
• Hedda Gabler, New York Theatre Workshop (2004)
• Angels In America, Stadsschouwburg Amsterdam (2008)
• The Roman Tragedies, Toneelgroep Amsterdam, Barbican, London (2009)
• A View from the Bridge, Young Vic, London (2014)
• Lazarus, New York Theatre Workshop (2015)
• Kings of War, Barbican, London (2016)
• The Crucible, Walter Kerr Theatre, New York (2016)
• Network, National Theatre, London (2017)
• All About Eve, Noel Coward Theatre, London (2019)
Awards:
• Olivier award for best director for A View from the Bridge, 2015
• Tony award for best director for A View from the Bridge, 2016
---
The Fountainhead runs at the Manchester International Festival at the Lyric Theatre from July 10 to July 13. For full details, visit: mif.co.uk