From selling ice cream at the Adelphi to winning an Olivier for Kinky Boots at the same venue, Matt Henry has seen every side of theatre world. Now appearing in Nottingham Playhouse's production of One Night in Miami, he tells Nick Clark about juggling childcare with his career and why he loves performing outside the capital
---
While still at drama school, Matt Henry went to see The Lion King. Watching the actor playing Simba, he got goosebumps. "I sat there and just said to myself that I wanted his job." Soon, by a twist of fate, he got it.
That night, Simba happened to be played by an understudy who broke his toe the next day and the show's producers advertised for a replacement. Only in his second year at the Urdang Academy, Henry wasn't supposed to audition for professional roles, but he bunked off class and went for the part.
Returning to school, he was called to the principal's office. "They asked where I had been that day, and I said I had been feeling ill. 'Well, we've just had a call from [casting director] Pippa Ailion's office saying you've got a role in The Lion King.' "
He left to be swing and first cover for Simba. "I was in the West End, in a black show telling stories about Africa. I grew up on The Lion King," he says. "I learned so much on the job. It was down to Thea Barnes, the associate choreographer and director. Learning on the job is so different."
Continues…
---
Q&A Matt Henry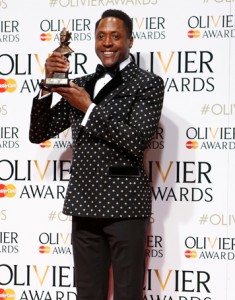 What was your first non-theatre job?
I worked in Clarks shoe shop during the day and at Café Rouge at night.
What was your first professional theatre job?
The Lion King.
What do you wish someone had told you when you were starting out?
It's okay to say no. Sometimes when you're young, you're just desperate to work and you can take things that are not right. But you grow into your confidence in this industry.
Who or what was your biggest influence?
My mother. As a single parent, she was mother and father, and she wanted a good life for me. She didn't really see theatre as a job, but a hobby. She got it when she came to see The Lion King.
What's your best advice for auditions?
Be prepared. Know your shit.
Do you have any theatrical superstitions or rituals?
Before performances I have a little straw I blow into – basically to get my voice where it is. I also need a moment of stillness before I go on.
---
When we meet in London's Jerwood Space, Henry – who became a bona fide star in the drag musical Kinky Boots more than a decade after The Lion King – is in rehearsals for One Night in Miami at Nottingham Playhouse. It is very different from the role that made his name and won him an Olivier. "There are no sequins or glitter," he laughs. "It is a bare Miami motel – this is where you have to dig into your acting chops."
The play focuses on four icons of black America. On February 25, 1964, Cassius Clay shocked the boxing world by beating Sonny Liston to become heavyweight champion. After the fight, the boxer, political activist Malcolm X, singer Sam Cooke and American footballer Jim Brown went to celebrate in the Hampton House motel in Miami. Kemp Powers' play imagines what they discussed in the room that night.
It was first staged in the UK at the Donmar in 2016. "At the time, I was in Kinky Boots," says Henry. "I thought it was such a great piece and it would be fantastic to be involved." When director Matthew Xia, new head of the Actors Touring Company, approached him to play Cooke in this revival, Henry agreed straight away.
"It was something I really wanted to do, especially because of the issues the play deals with. It really spoke to me as an artist. I also have an affiliation with Sam Cooke because I'm a singer-songwriter, and I grew up on his music. I felt instantly there was a connection."
One Night in Miami… review at the Donmar Warehouse – 'charismatic performances'
By another quirk of fate, he was already well-versed in Cooke's life. Before the part was even offered, he had been writing about the singer and planning a 'One Night with Sam and Matt'-style concert show.
"I already knew a lot of information before Matthew approached me," he says, then points to the huge biography he is carrying with him – Dream Boogie: The Triumph of Sam Cooke by Peter Guralnick. It's so exhaustive in its research that all his cast mates have been using it as a reference.
The night the play is set, and that meeting, was crucial for its protagonists. The boxer would soon announce he was to be known as Muhammad Ali, Malcolm X was having issues with the Nation of Islam, Brown was becoming a movie star and Cooke was just about to become more politically engaged in his music, culminating in civil rights anthem A Change Is Gonna Come. This was a significant shift from his earlier, apolitical hits.
"At the time, the gatekeepers were all white men," Henry says. "He had to play along to get along. Sam was treading the tightrope: he wanted to get ahead and elevate black artists and not piss off white people by being too political. That's how he had to play the game."
The 2013 play may be set half a century ago, but the themes are "very current", Henry says. "It's about black men trying to find their identity. It's about what black empowerment means – about fighting against racial hatred. Also, it's about having icons, people you can look up to, who inspire you to do better."
While the issues may be particular pertinent to the US, they are also resonant here. He says: "Even when my dad came here in the 1970s it was evident there was blatant racism. That has been diluted, but is still very present in society."
One Night in Miami rehearsals. Photos: Richard Hubert Smith
And a lack of diversity remains an issue in theatre. There is a sense that despite all the success, Henry isn't being offered roles that his contemporaries are. As we talk about representation in the West End, he says: "We're so far from where we should be. I look at my counterpart actors, like Killian [Donnelly, his co-star in Kinky Boots]. Killian has the wonderful opportunity to move from show to show to show. He did The Commitments, Memphis and Kinky Boots then went back to Les Mis. Many of my other white co-actors can move. There hasn't been that opportunity for the likes of me, for Adrian Hansel or Tyrone Huntley. I wish there was more opportunity."
He continues: "There's never been a black Phantom of the Opera in the UK. In the US, the first black Phantom, Norm Lewis, was in 2014. Phantom's been running for 30-odd years. What does that say? There's still a long way to go." Plays, on the other hand, are becoming more representative, offering more opportunities to black, Asian and minority ethnic writers, he says. "Musical theatre is behind. Dear Evan Hansen is coming to the West End. That could easily be a black family, but it instantly says creatives aren't thinking outside the box."
Beyond its themes, One Night in Miami is important because it draws black audiences to the theatre, Henry says. "It's needed. The last two big things have been Nine Night and Misty, which have shown there's a real audience out there."
Misty was written and performed by Henry's friend Arinzé Kene, who played Cooke in the Donmar's production of One Night in Miami. "Seeing him, he blew me away," Henry says. "But that was his interpretation and his take on Sam. Mine is very different."
In fact, Henry drew on his background to help build the character of Cooke. "I sang in a gospel choir. Like Sam, we had a gospel group and went round from church to church and conventions. I feel like I have a close connection with the character to draw on those things."
From gospel choir to drama school
It was Sunday school at church in Birmingham – where Henry grew up – that sparked his interest in music and performance from the age of four. "That's where it started, and when I got to school I was hungry to perform." An early disappointment was failing to land the plum role of Joseph in the nativity play, but he got to play the donkey. "I was gutted, but I was a good donkey," he laughs.
He loved performing at school. "It felt good being able to express myself. It was that Billy Elliot moment – it just felt good." At Joseph Chamberlain College, where he took an A level in performing arts, he found a big inspiration. Sitting in class one day, his teacher revealed that Adrian Lester, who had just won the 1996 Olivier award for best actor in a musical, was a former pupil.
"I remember sitting in class thinking: 'Woah, there's more to this. Look where he's come from and look where he got to.' That's what you need: people in the industry who are beacons. So you can say: 'If they can do it, maybe I can.' " Two decades later, Henry won the same award for Kinky Boots.
It was while studying sociology and drama at the University of Surrey, that, wanting to be around theatre people, he landed a job selling ice cream at the Adelphi Theatre on the Strand. "I was over the moon – I got to watch Chicago every night. I found it so glamorous. It was so exciting to watch Ruthie Henshall and Ute Lemper. I just wanted to perform there."
After Urdang, and his first big break in The Lion King, Henry went on to Miss Saigon and then Saturday Night Fever. "It just kept going and going," he says. "They all helped craft the actor I became. For Miss Saigon, I was working with Cameron Mackintosh's team and doing legit musical theatre. But I was always the understudy: always the bridesmaid, never the bride."
That changed with Avenue Q at the Noel Coward Theatre, and he went out on tour with the show. As well as playing Gary Coleman, Henry was resident director on the road. "Avenue Q opened something up in me – that I wanted to be creative and not just be an actor, but create and write. At that point in my career I was asking if I should continue with the directing or acting side, but I still had the burning desire to perform, so I did The Voice."
In 2013, he made it to the final of the second series of the talent show. "The Voice thing just happened – it was another platform to present myself and off the back of that came Kinky Boots."
That was his big break. At first, he auditioned for the Broadway production to take over as the lead, but it went to the New York understudy. When the show transferred to London, the producers auditioned him again and he landed the role.
It opened in 2015 at the Adelphi Theatre – the same venue Henry had dreamed of performing at as he sold ice creams during the interval of Chicago. To play Simon, and his drag alter ego Lola, in Kinky Boots Henry had to research – "which involved watching copious amounts of RuPaul's Drag Race" – and learn to walk in heels. "I suffered for my art," he laughs.
"When you're in it, you don't realise how amazing the vehicle is, because you're trying to do the best you can and survive," he says now. "Lola was one of the hardest roles I've ever done. Playing a drag queen, dealing with 6in stiletto heels, wigs, corsets, your whole daily routine of what you eat and when you sleep…
"It was a monster of a role. I rarely left the stage and when I did, if you took that side wall down, you'd see another performance going on with loads of people around me helping me change. I never sat down. I didn't have an interval, because it was back into make-up and costume changing. Once I got to the theatre at 5pm, I didn't stop until the curtain came down. I was the fittest I'd ever been."
Moving on from Kinky Boots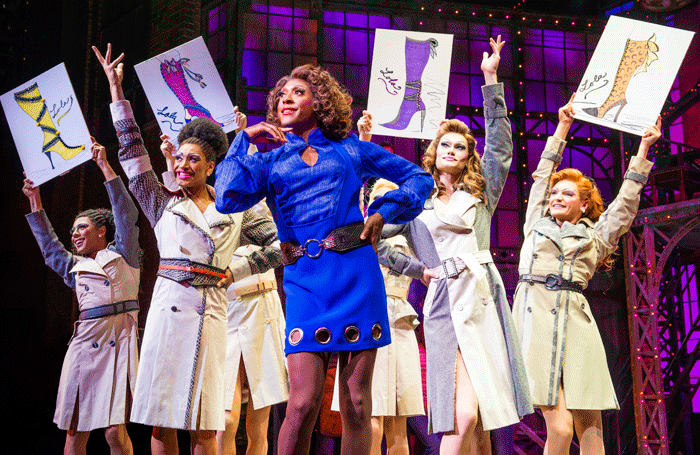 The show proved a huge commercial and critical success, winning three Olivier awards, including Henry's, and an Evening Standard award. This was thanks, in no small part, to his central performance as Lola and that of co-star Donnelly, who was also nominated for the same Olivier award. "We helped each other," he says. "He pushed me and I pushed him. Killian is amazing. Our friendship meant more than the award."
Then, in 2017, after two years, and appearing in more than 750 performances, Henry left the show. "We had a child and all of a sudden your priorities change. I had to decide that it wasn't about me anymore, it was about my son."
How theatre looks after parents and carers remains a big challenge for the industry. But, as a gay man with a child, Henry couldn't get a huge amount of support.
"I would have stayed at Kinky Boots," he reveals. "There were women in the cast who became pregnant, were able to take maternity leave and come back. As a gay man, I didn't have that opportunity to leave, have my child, look after my child then return to work. In that sense, the industry is very different." Even signing up to the Parents in Performing Arts pilot scheme didn't help. "It may work for other people, but not for me," he says. "It wasn't an option on Kinky Boots. I would have loved to go back if that option was there."
Family life means he has changed his approach to work, and he now brings his son to auditions and castings. "I'm at a point where I can go on tour. A year ago, there was no way I could do that. There was no way I could take another big role like Kinky Boots. I'm now in a position where I can choose what I want to do. I want to do plays and I want to do things I connect with. It all comes down to my home life and personal experiences right now."
'There's never been a black Phantom of the Opera in the UK. It's been running for 30-odd years. There's still a long way to go'
This means he can return to Nottingham with One Night in Miami. He last performed at the Playhouse as Ivan in The Harder They Come almost a decade ago. "Returning to Nottingham is great: I love the audience, they're so vocal. You get that when you leave London. Around Britain you get a grittier and more real response. It's exciting." It also makes it easier for his family to see him on stage, coming from Birmingham.
Often, stars of the West End don't make it to theatre outside London. Artistic directors from around the country have complained about how hard it is to attract talent that had made it in the capital. But Henry was happy to head to Nottingham after his success in Kinky Boots. "I follow the work. If something connects with me, I am on board."
He did have the chance to make his peace with Kinky Boots and the character properly. Both Henry and Donnelly were asked back to do a filmed version of the show in November. Henry called it "surreal" to return. "You're both a bit more mature, we've gone through different things. I have a baby, he's got a new dog," Henry laughs. "And we're thrown together to create the magic we created first time round. It was amazing. It was like putting on a comfy pair of slippers.
"It was so great because there had been times when I thought it would have been nice to do it just one more time. And now that one more time will be forever, as it's been recorded. It was nice to say: 'Lola has left the building.' I can say goodbye now."
After Kinky Boots, he appeared in The Two Noble Kinsmen at Shakespeare's Globe last May, playing Pirithous. It's a venue he knew from appearing there in Che Walker's The Frontline a decade ago. "The Globe is so good. There are all these groundlings by your feet. It was magical. They were so vocal."
Henry says he would love to return to a musical. "I love singing, acting and dancing. There's no point training and not using what I've got." And his passion, in musical theatre and beyond, is new work. "I'm so excited about new work – about the creative process and getting in the room."
Henry is also writing a TV series for the first time about his experience of becoming a parent – helped by the BFI writing course he took during the day when he was in Kinky Boots. "I'm gunning for writing and directing. There are things I want to do and if they come around I'll jump on them."
---
CV Matt Henry
Born: 1979, Birmingham
Training: University of Surrey; Urdang Academy, London
Landmark productions: The Lion King, Lyceum Theatre, London; Miss Saigon, Theatre Royal Drury Lane, London; Saturday Night Fever, Victoria Palace Theatre, London; Avenue Q, Noel Coward Theatre, London, and UK tour (2006); The Frontline, Shakespeare's Globe, London (2009); Kinky Boots, Adelphi Theatre, London (2015); The Two Noble Kinsmen, Globe (2018)
Awards: Olivier and WhatsOnStage awards for best actor in a musical (2016)
Agent: Curtis Brown
---
One Night in Miami runs at Nottingham Playhouse from June 7 to 22, with press night on June 11
Editor's note 06/06/19: Following the publication of this interview, Matt Henry requested that the following clarification be made: "After two amazing years as Lola, I made the very personal decision to leave Kinky Boots to focus on my home life ahead of the birth of my child. The Kinky Boots family were extremely supportive of my decision to become a parent and I am very grateful to them and for my time with the show."